Exhibition
At the Az W: EXPO 2008 Zaragoza, Spain
Presentation of the Concept for the Austrian Pavilion
Thu 13.09.2007 – Tue 18.09.2007
daily 10am-7pm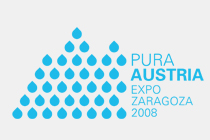 Following its successful showing at EXPO 2005 in Japan, Austria has decided to take part in EXPO 2008 to be held in Zaragoza, Spain. The event will center on the topic of water and sustainable development. Twenty-seven project teams from Austria and abroad submitted proposals for the pavilion design. Following careful consideration, the honour of best overall concept was awarded to the Strauss – Solid – Ritter consortium, whose project won over the selection committee.
EXPO 2008 in Zaragoza
The Austrian pavilion at EXPO 2008 (14 June to 14 September 2008), which will be housed in the joint Montañas pavilion will serve as the core of Austria's participation. As was the case at the most recent EXPO in 2005, participants will not build their own buildings. Country pavilions will be integrated into collective geographic and topographic pavilions. Given the creativity of the entries, this special architectural challenge was no match for the teams.
The winning project
pura austria – a stage for Austria
The semi-circular space reserved for the Austrian pavilion will be doubled in size thanks to floor-to-ceiling mirrors along the long side of the space. The combination of the mirrors and a semi-circular projection screen will create a panoramic experience for visitors. This 360° digital panorama and the landscape, which will be rendered abstract by light and sound, will transform the Austrian pavilion into a versatile stage to be used for countless events focusing on business, tourism, science and culture.
The Austrian EXPO Office will unveil the winning project and exhibit all other entries from 13 to 18 September 2007 in hall F3 of the Architekturzentrum Wien.