Exhibition
At the Az W: Building the New City
A Journey to the Metropolis of Tomorrow
Mon 04.03.2013 – Sat 09.03.2013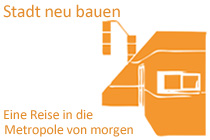 Exhibition by International Building Exhibition IBA and HafenCity Hamburg
With HafenCity and the International Building Exhibition IBA, Hamburg is home to two of the most important urban development projects of Europe. HafenCity has redefined a former port and industrial area by the Elbe as an urban district for living, work and leisure. In the context of IBA, the Wilhelmsburg district is transforming from a long-neglected "backyard" into a vibrant neighbourhood that provides for multiple uses.
Both projects embody different facets of a joint task for the future: how can metropolises be evolved in specifically European fashion without surrendering their traditions and qualities? With the exhibition "Stadt neu bauen", Hamburg wants to initiate an international exchange addressing intelligent forms of urban growth.
The core of the exhibition takes the form of an oversized compass which, rather than in cardinal directions, points towards those superordinate goals that the metropolises of tomorrow need to attain: "Growing City", "Open City", "Smart City" and "Civic City".
Admisison free!