Exhibition
At the Az W: Architecture Competition Weltstadthaus Peek & Cloppenburg Kärntnerstraße
Tue 26.02.2008 – Sun 02.03.2008
daily 10am-7pm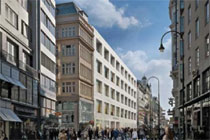 The architect of the winning project, David Chipperfield, will be present at the opening.
The architectural quality of its "Weltstadthäuser" is a major concern of Peek & Cloppenburg. For this reason Peek & Cloppenburg invited ‐ in accordance with The City of Vienna – the following renowned architects to take part in a competition for the site at Kärntnerstraße:
David Chipperfield – London
Richard Meier & Partner – New York
José Raphael Moneo – Madrid
Eduardo Souto de Moura – Porto
In this two-step competition, the project of David Chipperfield has been selected as the winner by the jury. Being situated in the heart of Vienna, alongside a
shopping street of worldwide status, this project questions what the future of the department store will look like. Architecture as a fascinating space of experience, as an intersection of urban forces, as a place of pleasurable dwelling and strolling, as a sensual experience of space, light and material.
In this exhibition in hall F3 of the Architekturzentrum Wien the winning project and all other entries will be exhibited.