Az W by Moonlight
Arrival and Departure
Architektur.Film.Sommer – 21.08.
Fri 21.08.2015, 20:00-23:59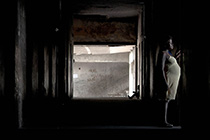 architecture film festival in the Az W courtyard
in the event of bad weather, at the Az W Podium
a cooperation by the Az W with wonderland — platform for european architecture, frame[o]ut and the MuseumsQuartier Wien
Special guests: Andrea Seidling, Jola Wieczorek and Lotte Stoops
zeitraum 02
AT 2012, 3 mins, D: Andrea Seidling
A house in the Vienna Werkbundsiedlung is the starting point for a filmic move from Venice to New York. The contrast between the images and the soundtrack creates a road movie in time and space.
NZ 2012, 11 mins, D: Thomas Gleeson
South Island, New Zealand: A house relocates, describing a journey that provides food for thought: Is a house really a lasting place, as is normally presumed? This short documentary has won awards at numerous festivals.
AT/PT 2014, 39 mins, D: Jola Wieczorek, in Portuguese with English subtitles
O que resta tells the story of an empty house in Lisbon that had been the centre of life for one family for over a century. While the house is being cleared, letters from the past tell us about the lives of the vanished occupants and the objects that they have left behind in the house. Emmaus, a flea market and an auction are the interim repositories for these mementos, where they begin a new lifecycle. Like the house, which is soon to be home to a new family.
MZ/BE 2010, 70 mins, D: Lotte Stoops, in Portuguese with English subtitles
The folly of colonialism manifests itself in the Grande Hotel located in Beira, Mozambique. Once the largest hotel in Africa it is now abandoned and dilapidated. "Sir Arthur Brandao was mad", exclaims one of the film's interviewees, talking about the architect behind the mammoth-sized complex who divided the hotel into 120 rooms, ensuring its inability to ever turn a profit. Now, after the anti-colonial war and chaos, it has been occupied by 2,500 impoverished Mozambicans living in a huge hollow concrete ruin without water or electricity. They have taken possession of the building and manipulated not only the stones but also the dreams. A journey through the present and past of a city in a city; a story about colonial megalomania, revolutionary vanity and feeling at home.
Supported by Embassy of Belgium in Austria / Delegation of Flanders