Screening
Architektur.Film.Sommer 2021
Earth Without Land — what will we build on tomorrow?
Wed 04.08., Wed 11.08., Tue 17.08. & Wed 25.08., Start at 20:30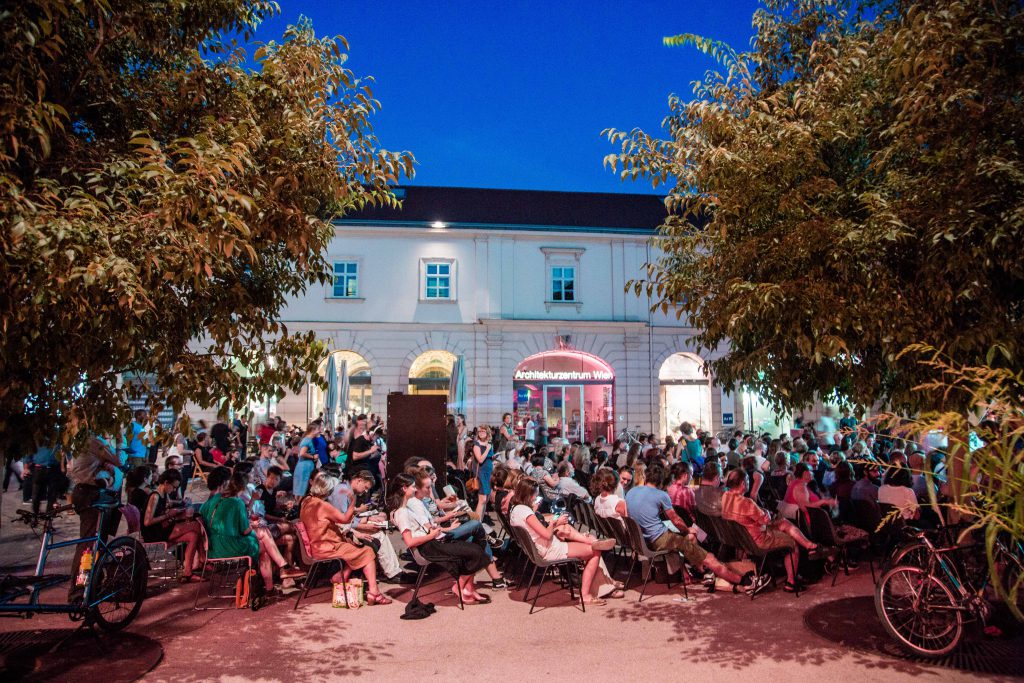 The ninth international open-air architecture film festival presents prize-winning films and new discoveries on the subject of land-use in rural and urban spaces.
The extinction of species. Flooding. Erosion. Land is becoming increasingly scarce and the call for a land policy for the future is growing louder. What might a careful approach to land and the soil look like for humans, fauna and flora? What about the consumption of water, land and forest? Who suffers the immediate consequences of this scarcity today and how can we counteract the longer-term impact?
A selection of documentaries and short films presenting projects with potential for the future and critical stances, from numerous international submissions. The open-air festival is an opportunity for film and architecture enthusiasts to hang out and swap ideas.
Wed 04.08., 20:30 "Habitat: Forrest"
The Church Forests of Ethiopia, US/ET 2019
09:22 min, OV with English subs
Die Rote Linie — Widerstand im Hambacher Forst, D 2020
90:00 min, German OV

Dir: Karin de Miguel Wessendorf
Wed 11.08., 20:30 Rural Urbanities
Sta(d/t)natur, AT 2020
03:07 min, German OV
Dir: Franziska Ducklauß, Nikola Jelaciv, Eva Kretzschmar, Erza Rexhepi, Peter Daniel Szvath, Sara Treccarichi Scavuzzo
Everything's Coming Together While Everything's Falling Apart: The ZAD, AT/DE 2017
36:00 min, OV with English subs
Circum Stance, BESETZEN, AT 2020
04:46 min, no dialogue
Dir: Mira Klug
Rettet das Dorf, AT 2020
76:00 min, German OV
Dir: Teresa Distelberger
Tue 17.08., 20:30 "Artificial Geologies"
Wichtiger als Du denkst, AT 2020
02:03 min, German OV
Dir: Anastasiia Prokhodtseva
Dir: Markus Rupprecht, Laurenz Steixner
Il Capo, IT 2010
Kiruna — A Brand New World, CZE 2019
87:00 min, Swedish OV with English subs
Dir: Greta Stocklassa
Wed 25.08., 20:30 "Water is Life"
Freundschaft, AT 2020
04:00 min, German OV
Dir: Natalia Polstovalova
Flint is Family, USA 2016
Scenes from a Dry City, USA/RSA 2018
12:44 min, OV with English subs
Dir: Simon Wood, François Verster
When A Town Runs Dry, USA 2016
The Seeds of Vandana Shiva, USA/AUS 2021
82:00 min, OV with English subs
Dir: Camilla Denton Becket, James Becket
In cooperation with wonderland — platform for european architecture, and MuseumsQuartier Wien
Curators: Lene Benz, Marlene Rutzendorfer