Festival
Architektur.Film.Sommer
Resisting Architecture
Fri 12.08.2016 – Wed 24.08.2016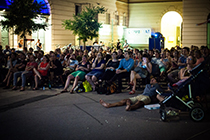 A cooperative undertaking between the Az W, wonderland – platform for european architecture, frame[o]ut – digital summer screenings and the MuseumsQuartier Wien
Festival: 12.08. – 24.08.2016 Location: courtyard of the Architekturzentrum Wien in the MuseumsQuartier WienAlternative bad-weather location: Az W PodiumTickets: admission is free
On six different evenings in August the fourth Architektur.Film.Sommer offers a high quality programme of short films, essay films and documentaries in the framework of frame[o]ut, shown in the courtyard of the Architekturzentrum Wien in the MusemsQuartier Wien.
This year's theme "Resisting Architecture" can be looked at from two different perspectives: on the one hand the focus is on resistance to planned building projects, the rejection of built structures and boundaries, while on the other a look is taken at the idea of resistance that is innate to self-determined building. The festival shows that own-initiative and self-organization harbour the potential to produce new forms of architecture and also to renew the social system within such architecture.
In the open-air setting visitors and passers-by are invited to linger, enjoy the programme and to join in discussions with the film-makers present.
Jury/Open Call: Karoline Mayer, Marlene Rutzendorfer, Martina Theininger
Screening: St. Balbach & Oliver Schmidt
Thanks to:
Embassy of Denmark in Austria
Embassy of Switzerland in Austria
PROGRAMME:
Moving Mountains
Fri, 12.08.2016, from 8pm
BERG, AT 2016, 25 mins, original with English subtitles, Dir.: Ella Raidel
DLRG, DE 2013, 12 mins, original with English subtitles,
Dir.: Antje Buchholz, Sven Flechsenhar, Maja Weyermann
ANDERMATT – GLOBAL VILLAGE, CH 2015, 90 min, original with German subtitles,
Dir.: Leonidas Bieri, Robin Burgauer
Permanent Transition
Sat, 13.08.2016, from 8pm
GRANICA, AT 2009, 6 mins, original version, Dir.: Eni Brandner
EUROPE ENDLESS, AT/MT 2015, 30 mins, original version,
Dir.: Gunther Blauensteiner, Valentin Langer, Penelope Reindl
BEHÖRDENGANG, 5 mins, no dialogue, Dir.: Dawid Liftinger
FLOTEL EUROPA, DK/RS 2015, 70 min, original with English subtitles, Dir.: Vladimir Tomic
Redundancy
Wed, 17.08.2016, from 8pm
ESTATE, A REVERIE, DK/RS 2015, 70 mins, original with English subtitles, Dir.: Andrea Luka Zimmerman
POSLEDNIY LIMUZIN (THE LAST LIMOUSINE), RU/DE 2014, 74 mins, original with English subtitles,
Dir: Daria Khlestkina
From Academy to Autonomy
Fri, 19.08.2016, from 8pm
INSTITUTE ABOVE-GROUND, CU/DE 2015, 22 mins, original with English subtitles,
Dir.: Florian Zeyfang Lisa Schmidt-Colinet, Alexander Schmoeger
SENSING SPACES: ARCHITECTURE RE-IMAGINED; DIÉBÉDO FRANCIS KÉRÉ, GB 2014, 8 mins, original version, Dir.: Candida Richardson
MICROBRIGADES – VARIATIONS OF A STORY, CU/DE 2013, 31 mins, original with English subtitles,
Dir.: Florian Zeyfang Lisa Schmidt-Colinet, Alexander Schmoeger
BATUSHAS HAUS, CH/KO 2015, 68 mins, original with English subtitles, Dir.: Tino Glimmann, Jan Gollob
Prefab Nostalgia
Sat, 20.08.2016, from 8pm
APPEARING SCULPTURAL | EBNIT BRIDGES, AT 2015, 11 mins, no dialogue,
Dir.: Marte.Marte Architekten and Andreas Waldschütz
VORORT, DE 2015, 8 mins, original with English subtitles, Dir.: Laura Engelhardt
BETON BRUT, GB 2014, 5 mins, no dialogue, Dir.: Timothy Smith
EXCUSE ME, WHILE I DISAPPEAR, ZA/AO 2014, 20 mins, original with English subtitles,
Dir.: Michael MacGarry
CONCRETE STORIES, CZ 2015, 72 mins, original with English subtitles, Dir.: Lorenz Findeisen
Home
Wed, 24.08.2016, from 8pm
THE BABUSHKAS OF CHERNOBYL, UKR/US 2015, 72 mins, original with English subtitles,
Dir.: Holly Morris & Anne Bogart
YAMA, JP/AT 2010/11, 8 mins, no dialogue, Dir.: Claudia Larcher
Due to legal reasons, we had to withdraw this film from our programme:
TOMORROW WE DISAPPEAR, IN/US 2014, 82 mins, original with English subtitles,
Dir.: Jimmy Goldblum & Adam Weber