experiencing architecture
Architecture Days 2010
Fri 28.05.2010 – Sat 29.05.2010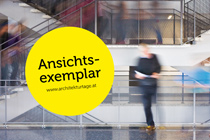 Fri 28 + Sat 29.05.2010, admission free
Experience architecture one to one: on 28 and 29 May 2010 the Architecture Days are being held throughout Austria for the fifth time, and so the event celebrates its first major jubilee. The Az W has a special programme: admission free to both exhibitions 'a_show. Austrian Architecture in the 20th and 21st Centuries' and 'x projects by arbeitsgruppe 4' on both days, as well as children's workshops for our youngest architecture aficionados.
All Children's workshops are already fully booked!
Minimal Housing
for kids ages 8–12 (max. 20 children)
Fri 28 May from 2pm – 5.30pm
Sat 29 May from 1pm – 5pm
The courtyard of the Architekturzentrum Wien is being transformed specially for the Architecture Days into a 1:1 El Dorado of building. There's gong to be hammering, sawing, gluing, sewing and assembling to make the most wonderful hideouts. Roofs made of twigs, cardboard or planks of wood, walls made of bottles, straw mats and fabric — there are no limits to your imagination.
To be held in the Podium if the weather is bad.
Bridging the Gap
for children ages 5–10 (max. 20 children)
Fri 28 May, 2pm – 4.30pm
Arch bridges, chain bridges, suspension bridges, hanging bridges, cable stayed bridges, pontoons or human chains — find out more about the construction and history of this key feat of civil engineering at the Architekturzentrum Wien. Equipped with tape measures, spirit levels and other tools we build our own bridge, and then test its load bearing capacity over water.
MOBILE – HOMES. My Home to Go
for children aged 5–10 (max. 20 children)
Sat 29 May, 2pm – 4.30pm
Who hasn't dreamed of living in their own portable house and so of truly being able to enjoy the mobile life. Inspired by different examples of mobile architecture – from the classical dwellings of the nomads via the self-assembly house by Buckminster Fuller to the 'urban sushi' of AWG – you build your own portable house to go.
The workshop "Minimal Housing" as part of the "Architecture Days 2010".