Workshop
Architecture at Home
With One Hand on the Mouse and a Pencil in the Other
Sat 24.01.2009, 14:00-16:00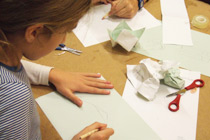 (in German)
A workshop for kids to accompany the exhibition 'Architektur beginnt im Kopf. The Making of Architecture'
What methods do architects work with? How do they have their initial ideas — only by making sketches, or in the form of words? Or can we also work with standardised materials like lipstick, water pistols, Lego, Playmobil or even orchids? We pursue the working methods and leitmotifs of the architecture offices in the exhibition and find some very unusual approaches.
In a guided tour of the exhibition we are introduced to a number of projects by the participating architects on the basis of models.
We test our own model-making methods in the ensuing practical exercise using Lego bricks, Plasticine, fruit and vegetables, adobe, leaves, straw etc. are provided to bring our ideas for a one-roomed home into shape.
Reservations: 01-522 31 15 or office@azw.at