Workshop
Archikids: Playgrounds
Sat 08.09.2007, 15:00-17:30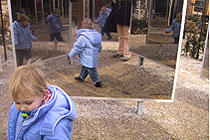 IMPORTANT: Meeting point Stadtpark
U4 station Stadtpark / exit "Stadtpark" next to the playground inside the Stadtpark.
"The real experts on playgrounds are children." Accordingly, all budding games theorists are called upon to depart on a voyage of discovery in the company of the architecture educator Ulrike Kohnen-Zülzer.
In the world of playgrounds and play areas we encounter fountains, twisting mazes, tree houses, climbing frame houses and much more to entice us to play – and for our own playground design.
Reservations: 01-522 31 15 or office@azw.at
ARCHIKIDS – Ask at the Az W
Everything you've ever wanted to know about architecture.
Architecture for the whole family!
Starting this March every 2nd Saturday in the month is a fixture on the programme for inquisitive Archikids (aged 6 and over). Find out everything you've ever wanted to know about architecture on this expedition into the built environment. The programme is designed to be equally appealing to your parents, grandparents, aunts or uncles.