Workshop
Archikids: Monumental Thinking!
Ask the Az W
Sat 18.04.2009, 15:00-17:00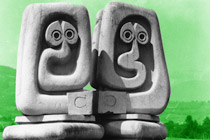 (in German)
for children 6-12 years
Cultural monument, Natural monument… together with the curator Ivan Ristić we emerge ourselves in the world of the monuments by Bogdan Bogdanović and his surrealist realm of fantasy. We stroll around, through monsters, boats, cones, temples, gateways and artificial mounds. In the following practical exercise we design our own monuments.
Reservations: 01-522 31 15 or office@azw.at