Workshop
Archikids: Lego Architecture
for ages 6+
Booked up!
Sat 13.11.2010, 15:00-17:00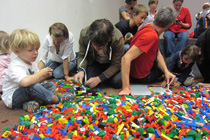 in German
Since 2009 Lego Architecture has been producing models of key architectural gems to build yourself, such as the Empire State Building and the Guggenheim Museum in New York. But how can existing buildings be copied with Lego bricks? And how can the bricks be the right size and in the right number for the Lego model to look like the original? We discuss these and other questions with a design expert from Lego. After which there is plenty of time for building, too.
Reservations required for workshop participation:: 01-522 31 15 or office@azw.at
ARCHIKIDS – Ask at the Az W
Everything you've ever wanted to know about architecture.
Architecture for the whole family!
Starting this March every 2nd Saturday in the month is a fixture on the programme for inquisitive Archikids (aged 6 and over). Find out everything you've ever wanted to know about architecture on this expedition into the built environment. The programme is designed to be equally appealing to your parents, grandparents, aunts or uncles.
Photos from the workshop "Archikids: Lego Architecture", November 13, 2010 at the Architekturzentrum Wien.