Workshop
Archikids: How is a Chair Made?
Ask the Az W
Booked up!
Sat 28.03.2009, 15:00-17:00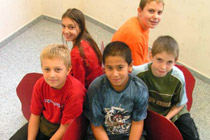 in cooperation with Hussl Sitzmöbel
Do we only need chairs to sit on? Should chairs be comfortable or look good? Why do the proportions have to be right? And, are plans drawn up to make a chair? What is a prototype, and why do people make them? Master cabinetmaker Peter Hussl — CEO of Hussl Sitzmöbel — shows us how a chair is designed, and then we build a chair together.