Workshop
Archikids: For Spies
A peep behind the scenes
Sat 14.04.2007, 15:00-17:00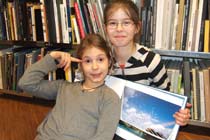 What would happen if there were no plans?
Would the houses be upside-down, would the foreman on site have no schedule to work to?
How did the drawing pen become the Rapidograph, and what's the difference between a drawing machine and a CAD?
We dig out old plans wearing white archivist's gloves, make floor plans and sections using old tools, and then compile the inventory for a model – just like the experts do. The caramel architekten team then conclude the workshop by showing us how blueprints are turned into computer renderings.
Reservations: 01-522 31 15 or office@azw.at
ARCHIKIDS – Ask at the Az W
Everything you've ever wanted to know about architecture.
Architecture for the whole family!
Starting this March every 2nd Saturday in the month is a fixture on the programme for inquisitive Archikids (aged 6 and over). Find out everything you've ever wanted to know about architecture on this expedition into the built environment. The programme is designed to be equally appealing to your parents, grandparents, aunts or uncles.