Workshop
Archikids: For Bookworms
Sat 10.03.2007, 15:00-17:00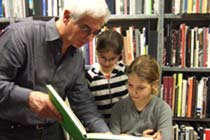 Wolfgang Heidrich, 'the librarian's Jamie Oliver', gives a guided tour of the Az W library. Questions like 'how long have books existed?' and 'how is a book put together?' are answered on the tour. 'What are the pros and cons of different types of bindings?' and, 'What an earth does pagination or ISBN mean? In the practicle exercise we make our own architecture book to take home.
Duration: 2 hours
Reservations: 01-522 31 15 or office@azw.at
ARCHIKIDS – Ask at the Az W
Everything you've ever wanted to know about architecture.
Architecture for the whole family!
Starting this March every 2nd Saturday in the month is a fixture on the programme for inquisitive Archikids (aged 6 and over). Find out everything you've ever wanted to know about architecture on this expedition into the built environment. The programme is designed to be equally appealing to your parents, grandparents, aunts or uncles.