Workshop
Archikids: At the scene of the crime! Architecture correspondent for a day
Workshop for children aged 8+
Sat 24.05.2008, 13:00-17:00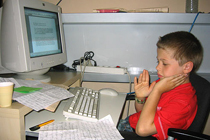 How does architecture get featured in the newspaper? What do architecture correspondents do all day? And what do newspaper offices look like from the inside? Wojciech Czaja, architecture correspondent at for daily Der Standard, accompanies us on a visit to the Kabelwerk, where we are given a guided tour by one of the architects, Christian Seethaler, who is also answering any questions we may have.
Then we move on to the offices of Der Standard, where we have an opportunity to type our own newspaper articles. The best piece will be published in the kids section of Der Standard.
Reservations: 01-522 31 15 or office@azw.at
Meeting point: Kabelwerk in front of Hotel Altmannsdorf, 33 Hoffingergasse, (Oswaldgasse/Hoffingergasse crossroads)/ terminates in the editorial offices of der Standard, 19–21 Herrengasse, 1010 Vienna
ARCHIKIDS – Ask at the Az W
Everything you've ever wanted to know about architecture.
Architecture for the whole family!
Every 2nd Saturday in the month is a fixture on the programme for inquisitive Archikids (aged 6 and over). Find out everything you've ever wanted to know about architecture on this expedition into the built environment. The programme is designed to be equally appealing to your parents, grandparents, aunts or uncles.