Workshop
Archikids: archimatik
Workshop for children aged 8 and over
Sat 08.03.2008, 15:00-17:30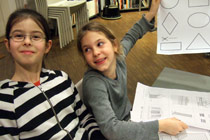 An event by the Az W in cooperation with math.space
At the math.space there are geometric shapes wherever you look. But where are they concealed in buildings running through the 'a_show' exhibition? What is a golden section and what does it have to do with architecture?
And what's the difference between a 1:100 model and a 1:1 model? Is it only a question of scale?
Following a lively introduction to maths at the math.space, we are whisked away to 'a_show' at the Az W, and into the world of architecture, where we put what we've learned into practise in the workshop.
Reservations: 01-522 31 15 or office@azw.at
ARCHIKIDS – Ask at the Az W
Everything you've ever wanted to know about architecture.
Architecture for the whole family!
Every 2nd Saturday in the month is a fixture on the programme for inquisitive Archikids (aged 6 and over). Find out everything you've ever wanted to know about architecture on this expedition into the built environment. The programme is designed to be equally appealing to your parents, grandparents, aunts or uncles.