Exhibition
Archicard Edition 02
2nd Series of Architektur Archiv Austria Postcards
Thu 25.11.2004 – Mon 06.12.2004
daily 10am-7pm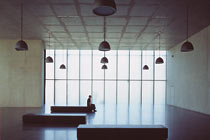 Wednesday, 24.11.2004, 7pm: Podium
Presentation, discussion and exhibition opening
Presentation of the 2nd series of Architektur Archiv Austria postcards, for which 16 Austrian architecture photographers have been asked for their personal icons.
The Panel:
Barbara Holub, photographer
Margherita Spiluttini, architecture photographer, Vienna
Jan Tabor, architecture historian, Vienna
Liesbeth Waechter-Böhm, architecture critic, Vienna
Moderated by: Georg Schöllhammer, editor of the magazine 'Springerin'
As part of the 'Month of Photography' the Az W is presenting an exhibition of the second Archicard edition. In 2002 the Archicard Edition 01 directed its attention to the anonymous architecture of Austria, in 2004 the Edition 02 focuses on the term 'icon'. The different approaches to photographing architecture manifest themselves in the field of tension between canon and anti-canon, between the sanctioned icons of Austrian architecture and the capturing in images of transitions, or buildings that have been over-exposed in the media.
Photographers for Edition 02: A.T. Neubau/Siegrun Appelt, Sabine Bitter/Bitter Weber, Gisela Erlacher, Arno Gisinger, Veronika Hofinger, Barbara Holub, Eduard Hueber, Angelo Kaunat, Zita Oberwalder, Josef Pausch, Nikolaus Schletterer, Herbert Schwingenschlögl, Gebhard Sengmüller, Helmut Tezak, Christian Wachter, Gerald Zugmann