Festival
All Things Frank!
For 2 more days everything circles around the Villa Beer
Sat 14.05.2016 – Sun 15.05.2016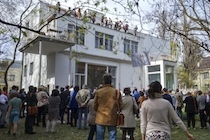 Within 2 days around 2,500 architecture fans visited Josef Frank's masterpiece of interwar modern architecture in April. Due to the enormous interest in Villa Beer the Architekturzentrum Wien will offer architecture aficionados another opportunity to become acquainted with this architecture historical gem in Vienna on 14 and 15 May.
Villa Beer is one of the key Viennese architectural achievements of the 1920s and '30s in the private housing sector. It is regarded as a built manifestation of Josef Frank's concept of The House as Path and Place, a development on Loos' Floor Plan. Art historian Maria Welzig takes visitors on a guided tour around this currently unoccupied architectural jewel of Viennese Modernism.
Admission
Tickets: € 10 / students € 8 (in advance at the Az W Shop, or at the venue)
We offer hourly lectures introducing the building and its history. The state rooms and the rooms in the second floor are accessible to the public. Canvas chairs in the backyard as well as good seasonal catering on site invite visitors to linger and enjoy.
Lecture / introduction to the house:
Sat, 14.05.2016: 12noon / 1pm / 2pm / 3pm / 4pm / 5pm, with art historian Maria Welzig
Sun, 15.05.2016: 12noon / 1pm / 2pm / 3pm / 4pm / 5pm, with architect Claudia Cavallar
Open to all visitors, no reservation required.
SOLD OUT: Az W on Site: Hietzing. A walk around Villa Beer
Sat, 14.05.2016, 2pm
Sun, 15.05.2016, 2pm
Duration: 2-2,5h
Meeting point: 1.45pm in the foyer of Villa Beer
Tour guide: Martina Frühwirth, Az W
Tickets: € 16 / students € 13
(available at the Az W Shop and on site)
Registration required: only available by E-mail to office@azw.at
Max. 25 participants
The neighbourhood around Villa Beer is like a who's who of the culture of building: Frank, Hoffmann, Loos, Plecnik. The stroll through the exclusive residential area is like being in an open-air museum, past houses and a school built by Frank's contemporaries, and a monument commemorating the neighbourhood's Jewish past. While the 21st century has also found its place in Hietzing.