Lecture
Alexander Brodsky. Art Works
Wed 21.09.2011, 19:00-21:00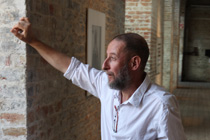 The lecture is in English.
7pm Andrea Seidling, editor of & concept for 'Hintergrund' 50/51: introduction
7.15pm Alexander Brodsky, architect: lecture
Alexander Brodsky provides an insight into his world once more, just before the end of the exhibition, and shows his key art projects.
Born into an artist's family in 1955, from 1968 he studied at the Moscow art college and switched to the Moscow Architecture Institute in 1972. Alexander Brodsky achieved international recognition, together with Ilya Utkin, back in the 1980s as one of the most prominent representatives of the Russian 'paper architects'. With their utopian and imaginative designs they looked for ways out of the tristesse of the architecture of the Khrushchev era and the period of stagnation under Brezhnev. With their etchings, most of which were completed for submission to competitions, they refused to participate in the state structured and soul-deprived production process. Brodsky and Utkin have subsequently been shown worldwide and achieved an international reputation. In the 1990s Brodsky concentrated on his artistic work, and moved to New York in 1996. In 2000 he founded his unconventional architecture office back in Moscow, and began working on the completion of restaurants, family homes and temporary architectural installations. In 2010 Brodsky was honoured with one of the highest awards for art in Russia, the Kandinsky Prize.
Impressions of the lecture 'Alexander Brodsky. Art Works', September 21, 2011.