Workshop
Adventure city LEGO 03.07.
In the framework of the Wiener Ferienspiel (from the age of 6)
Booked up!
Thu 03.07.2014, 10:00-12:00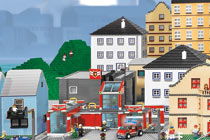 Together we take a look at the history of the city and its development and ask which functions a city must fulfill. Before starting to build we divide up the site into various zones and think about which buildings (city hall, residential tower block, museum, industrial building, bridges, ….) we need.
Dates: Mon, 30.06. / Tues, 01.07. / Wed, 02.07. / Thurs, 03.07. / Fri, 04.07.2014, 10 am – 12 midday
Reservations required for workshop participation: T +43 1 522 31 15 or office@azw.at