sundays
Adolf Loos: "Caf» Museum"
tour 55
Sun 02.04.2000, 14:00-23:59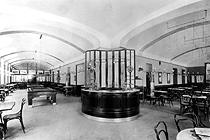 Stations of an exhibition
The curators guide through the exhibition.
Adolf Loos in America / Loos comes to Vienna /
the Cafe Museum: The house and the location, the room, the chair
Das Gibson-Zimmer / Der Umbau durch Josef Zotti / Wiener Kaffeehäuser /
critiques and commentaries / the regular customers, the myth Café Museum.
Meeting:
"Imperial Furniture Depot" ("Kaiserliches Hofmobiliendepot")
Andreasgasse 7
A – 1070 Vienna
2:00 P.M.
Guides: Eva B. Ottillinger, August Sarnitz and Markus Kristan
Kaffeehausgast: Maria Welzig
Tickets: EUR 7.30 (ATS 100.-) / EUR 3.65 (ATS 50.-)