Presentation
a_showcase 27: Concrete — velvety, naked, brutal?
Wed 20.07.2016, Daily 10:00 AM - 07:00 PM, Wednesdays until 09:00 PM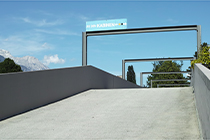 Architects and experts on concrete hold a discussion with a focus on the "liquid stone". Starting with "brutal" historical landmarks in the west of Austria, the panel leads the discussion to current buildings, with the central role in these projects played by fair-faced concrete as the purest form of this versatile building material.
Guests:
Vanessa Joan Müller, co-curator of the exhibition "Béton", Kunsthalle Wien
Werner Neuwirth, architect, Vienna
Monika Platzer, Sammlung Az W
Teresa Stillebacher, architect Innsbruck/Vienna, grand-daughter of Norbert Heltschl
Moderated by Martina Frühwirth, Az W