Presentation
a_showcase 21 "Repeat Yourself" Loos, Law and the Culture of the Copy
Ines Weizman (with Armin Linke, Andreas Thiele)
Wed 26.06.2013, Daily 10:00 AM - 07:00 PM, Wednesdays until 09:00 PM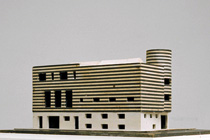 Guest speakers:
Hermann Czech, architect, Vienna
Rainald Franz, Curator, MAK, Vienna
Markus Kristan, Curator, Albertina, Vienna
Armin Linke, photographer and artist, Berlin
Christopher Long, architecture historian, Austin/Texas
Ines Weizman, architect and architecture theorist, London/Weimar
Copyright extends to 75 years after the death of the author. In 'Repeat Yourself', Ines Weizman examines the implication of the passing of Adolf Loos' work into public domain and simultaneously recalls Loos' architectural imperative to "repeat yourself". The installation investigates the place of copyright in architecture by proposing the construction of a facsimile of Loos' unbuilt House Baker (1928). This architectural intervention is a part of a multivalented attempt to reconstruct the legal disputes around the ownership of Loos' archive and work.
Following its presentation at the 13th Venice Architecture Biennial, Ines Weizman now presents her work at the Az W. The opening reception is followed by a panel discussion with qualified Loos experts.
Event held in German
Admission free!