Lecture
a_showcase 05: Heilige Zeiten — Church Building Today
Wed 09.01.2008, Daily 10:00 AM - 07:00 PM, Wednesdays until 09:00 PM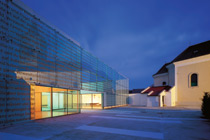 Otto Häuselmayer and Heinz Tesar speak on the history behind the completion of the churches featured following a brief guided tour of the exhibition by Ann Katrin Bäumler and Andreas Zeese.
This is followed by lichtblau . wagner with models and original material for the Podersdorf parish centre, questioning the role played by the Church as a client. Their project for an extensive expansion of the historic church in Podersdorf won a two-stage competition in 1998. The new space for Sunday Mass, foyer and open spaces, parish hall and parish centre create a perpendicular sequence of interior and outdoor spaces that are discovered on crossing the building instead of being orientated around one viewpoint.
That a church is a public building is not just a sound byte but becomes the agenda for the architects, as is manifest both in its functionality and in terms of the urban fabric.
Guest Speakers:
Otto Häuselmayer, Heinz Tesar
Andreas Lichtblau and Susanna Wagner (lichtblau . wagner)
Moderation:
Ann Katrin Bäumler, Andreas Zeese (Vienna University of Technology), Monika Platzer
Impressions from the a_showcase 05: Heilige Zeiten — Church Building Today.