Lecture
a_showcase 04: 100 Years Theiss & Jaksch / Schwalm-Theiss & Gressenbauer
The Continuity of a Viennese Architects Practice
Wed 10.10.2007, Daily 10:00 AM - 07:00 PM, Wednesdays until 09:00 PM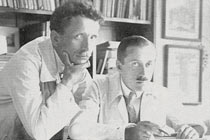 Guests
Georg Schwalm-Theiss, architect
Elke Krasny, architecture theorist and curator
Presenter: Gabriele Kaiser
The oldest Viennese architects practice continually in existence is celebrating its hundredth birthday! The practice of Theiss & Jaksch was founded in 1907. For a schaufenster 04 architect Georg Schwalm-Theiss (a grandson of Siegfried Theiss) presents a true piece of Austrian building and company history using models, previously unpublished photographs, historic documents and plans.
The long existence and continuity of this practice are not just a product of chance: in addition to familial relationships the same address and a view of the profession that, in many aspects, has remained the same connects the studio Theiss & Jaksch founded in 1907 with the office of Schwalm-Theiss & Gressenbauer that operates today. The practice attracted attention with Vienna's first high-rise building, which was erected in Herrengasse in 1930.
During this evening Georg Schwalm-Theiss intends to explain the special aspects, similarities and differences in design work practice and building typology "over the course of time". As examples he will use the Klein St. Paul (1921-1922) workers housing estate as well as the Hüttenberg miners housing estate (1921-1923. With reference to a number of his own housing developments continuity and the discontinuity – not just in this office's history – will be the subject of discussion.
Impressions from the a_showcase 04: 100 Years Theiss & Jaksch / Schwalm-Theiss & Gressenbauer
The Continuity of a Viennese Architects Practice