Lecture
a_showcase 03: The Frankfurt Kitchen
Wed 25.07.2007, 18:00-23:59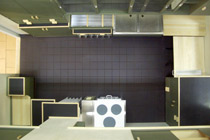 Margarete Schütte-Lihotzky, the first woman to qualify as an architect in Austria, was called to take up office at the Hochbauamt of the City of Frankfurt by Ernst May in 1926. Once there she worked on efficient models for new social housing and estates in studies on rationalised, space-saving household management which culminated in the development of the Frankfurt Kitchen.
By applying methods employed in assembly-line production the architect succeeded in fitting a complete ergonomic system including all of the necessary facilities into 6.5 square metres. Between 1926 and 1930 in Frankfurt every one of the approx. 10,000 new local authority homes was fitted with this kitchen.
The collection of the University of Applied Art in Vienna has commissioned Franz Hnizdo and his team to complete two models of this Frankfurt Kitchen. A group of experts will be using this model, which is being presented for the first time along with original material from the architect's estate, to engage with this influential and innovative space.
Guest speakers:
Franz Hnizdo, University of Applied Art, Vienna
Patrick Wenker, collections of the University of Applied Art, Vienna
Karin Zogmayer, Schütte-Lihotzky expert, Vienna
Moderated by Monika Platzer
Guided tours of 'a_show':
Wed 18.07.2007 at 6pm
Wed 15.08.2007 at 6pm
Impressions from the event "a_showcase 03: The Frankfurt Kitchen" July 25, 2007 at the Architekturzentrum Wien.