Lecture
a_showcase 01: Josef Lackner (In German)
with ARTEC Architekten
Wed 14.03.2007, Daily 10:00 AM - 07:00 PM, Wednesdays until 09:00 PM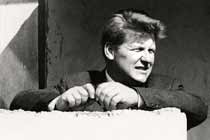 ARTEC Architekten (Bettina Götz, Richard Manahl) talk about the work of Josef Lackner (1931–2000)
Duration: approx. 1 hour
The guest architects use selected architecture models and original plans from the Az W collection to show the significance of Josef Lackner's oeuvre for their own work. The talk is moderated by the curator Monika Platzer.
The architecture models remain on show in the exhibition until the next scheduled a_showcase presentation.
a_showcase
As the new supplementary programme to a_show, a_showcase offers admission free insights into different topics within the exhibition five times yearly. Each of these temporary showcases features one or more models that remain on show until the next fixture. Specific topics are addressed in a talk based on the exponents with guest architects and/or experts.
Wednesdays, starting at 6pm, Neue Halle
Impressions from the a_showcase 01 with ARTEC Architekten.