Exhibition
a_show Stage 2
Austrian Architecture in the 20th and 21st Centuries
Thu 16.09.2004 – Mon 26.09.2005
Daily 10:00 AM - 07:00 PM, Wednesdays until 09:00 PM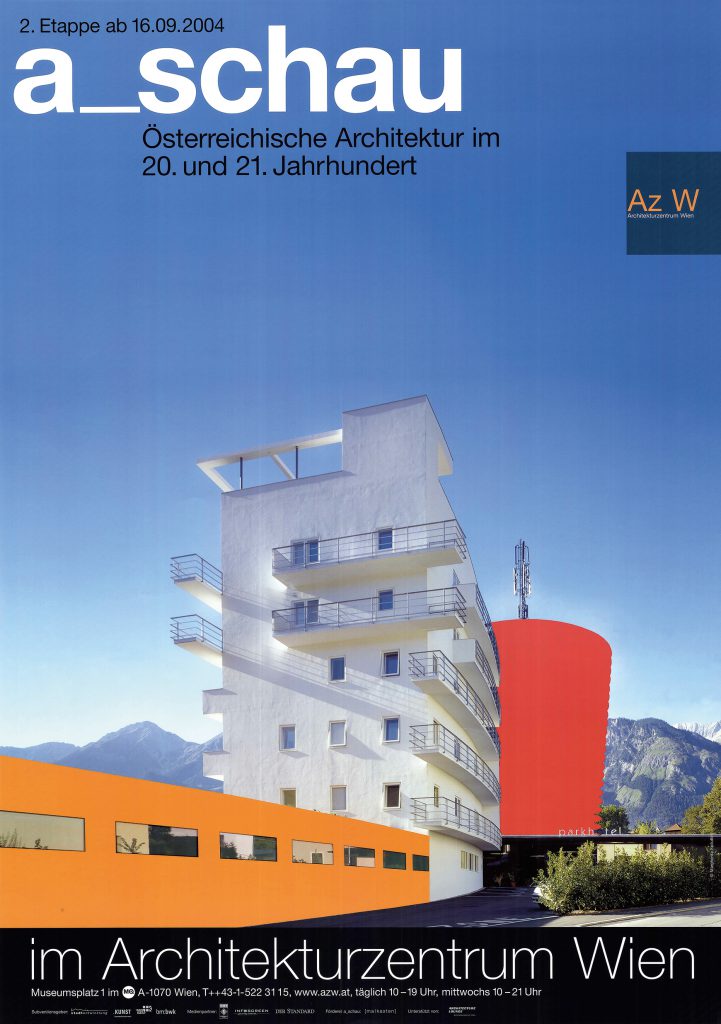 The 2nd stage covers the topics Red Vienna, Power, Landscape and the Post-War Reconstruction, i.e. the period from 1918–1955.
Starting with the 'Prologue', the first stage and the rise of Vienna to an imperial metropolis, in the second stage of the exhibition it is shown how numerous socio-political changes and the establishment of new cultural identities found their visible manifestation in the built reality of the country in the first half of the 20th century.
In the charged area between gestures of power, socio-political experimentation, the 'conquest' of Alpine space and the factual as well as symbolic period of reconstruction after 1945, the specific contribution of Austrian architecture to the international history of building is shown on the basis of exemplary projects.
THE TOPICS COVERED IN STAGE 2
02 RED VIENNA
03 LANDSCAPE
04 POWER
05 RECONSTRUCTION
66 projects arranged according to these topics are to be added to the exhibition and presented as a historical development on the varied basis of plans, documents, old photographs, company prospectuses etc.
Specially edited film footage take the viewer beyond the period from 1850-1958. While a time track with a clear chronology running along the walls of the exhibition places the architectural achievements of Austria in a broader cultural context.
Opening of the exhibition
Hannes Pflaum, President Architekturzentrum Wien
Wolfgang Kos, Director Wien Museum
Gabriele Kaiser, Curator
Franz Morak, State Secretary for the Arts and Media
October 2005: Opening of 3rd Stage (1958-now)
06 INTERNATIONAL I 07 SYSTEM I 08 IDEALISM I 09 COLLAGE I 10 THE PRESENT
Curators: Gabriele Kaiser, Monika Platzer
Research assistance: Sonja Pisarik, Ute Waditschatka
Film curator: Helmut Weihsmann
Exhibition Design: Design Studio Walking-Chair, Vienna
Sponsors:
Geschäftsgruppe Stadtentwicklung und Verkehr
Bundeskanzleramt Sektion Kunst
Wien Kultur
Bundesministerium für Bildung, Wissenschaft und Kultur
A few views of the exhibition "a_show Austrian Architecture in the 20th and 21st centuries" in the Az W´s New Hall, designed by WALKING-CHAIR Design Studio GmbH.