Guided Tour
'a_show' special guided tour
Focus: Finding traces in the city - Power and Post-War Reconstruction
Wed 20.07.2005, Daily 10:00 AM - 07:00 PM, Wednesdays until 09:00 PM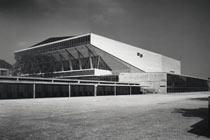 The tour concentrates on the topic 'Power and Post-War Reconstruction'.
Power
The 'homeland-conscious' link with old Austrian traditions determines the iconographic programme of the architecture (e.g. Heldentor). Numerous new churches become the vehicle for a re-Christianisation programme, while the pavilions of the world exhibitions and the Biennial are stylised to become ideological vehicles for the official Austria.
When Hitler marched in Austria in 1938 the policies of persecution and banishment took on a new totalitarian dimension. The power gesture of the architecture empowered the regime's claim to political authority. Salzburg, Graz, Innsbruck and Linz were among the cities and towns designated for redesign by the Nazi leadership, as "Hitler's hometown", Linz receives particular attention, while in Vienna building activity was restricted to just a few projects (e.g. the flak towers).
Post-War Reconstruction 1945–1955
A number of the protagonists in the period between the wars, like Clemens Holzmeister, Franz Schuster, Erich Boltenstern, Oswald Haerdtl or Max Fellerer, decided who had a look-in long after 1945. So too, most of the urban development competitions originally remained without inspiring results or stood hardly any chance of being realised.
The first signs of an optimistic period of reconstruction could be seen at the end of the 1940s in the 'Zukunftsprogramm' (Programme for the Future), e.g. the Gänsehäufel Strandbad (bathing complex). A new levity was introduced into cafés, pavilions and shops. Striking buildings like the Vienna Ringturm or the Stadthalle supported the identity of a newly constituted republic, self-confidently alluding to a 'liberated' everyday experience in the coming years of prosperity.
A few views of the exhibition "a_show Austrian Architecture in the 20th and 21st centuries" in the Az W´s New Hall, designed by WALKING-CHAIR Design Studio GmbH.