Presentation
a_schaufenster 19: Zwischen den Stühlen
Wed 30.05.2012, Daily 10:00 AM - 07:00 PM, Wednesdays until 09:00 PM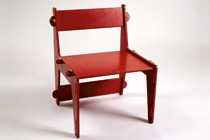 Guests:
Harald Bichler Rauminhalt
Luigi Blau architect
Christoph Lammerhuber pool Architektur ZT
Manfred Schenekl historian and urban researcher
Eva Rubin architect
Moderated by: Monika Platzer Az W
Many pieces of furniture today described as "classics" were designed by architects. The Az W collection includes a considerable number of furniture designs, by, among others, Oswald Haerdtl, Eugen Wörle, Roland Rainer, Oskar Payer and Johannes Spalt. On the basis of a number of examples of furniture the following questions are explored: what motivates architects to design furniture? Is there a "Design Austria" after 1945?
discussion in German
Admission free!
Photos taken at the event 'a_showcase 19: Caught Between Stools' at the Az W's New Hall May 30, 2012.