Presentation
a_[film]show 2
Supplementary programme for a_show
Wed 13.10.2004, 19:00-21:00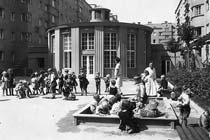 a_[film]show 2: a further evening dedicated to the architecture film is to accompany the exhibition a_show. With a special focus on the 'Era of Red Vienna', selected short films provide a filmic tour through the city in the period between 1919-1934. These were the years when Vienna became a provincial state in its own right and was characterised by policies dedicated to housing, welfare and education.
61,175 new homes were built in 348 housing complexes, and 42 groups of housing developments with 5,257 new houses. The aim at the time was not to restructure the city but to concentrate instead on maintaining the diversity of the urban fabric by developing wasteland sites. The filmic tour through the city of the time provides a broad and varied panorama of the metropolis and its inhabitants.
Film expert and curator Helmut Weihsmann is providing a brief introduction to each of the films.