Exhibition
9=12
New Housing in Vienna
Fri 13.09.2002 – Mon 27.01.2003
Daily 10:00 AM - 07:00 PM, Wednesdays until 09:00 PM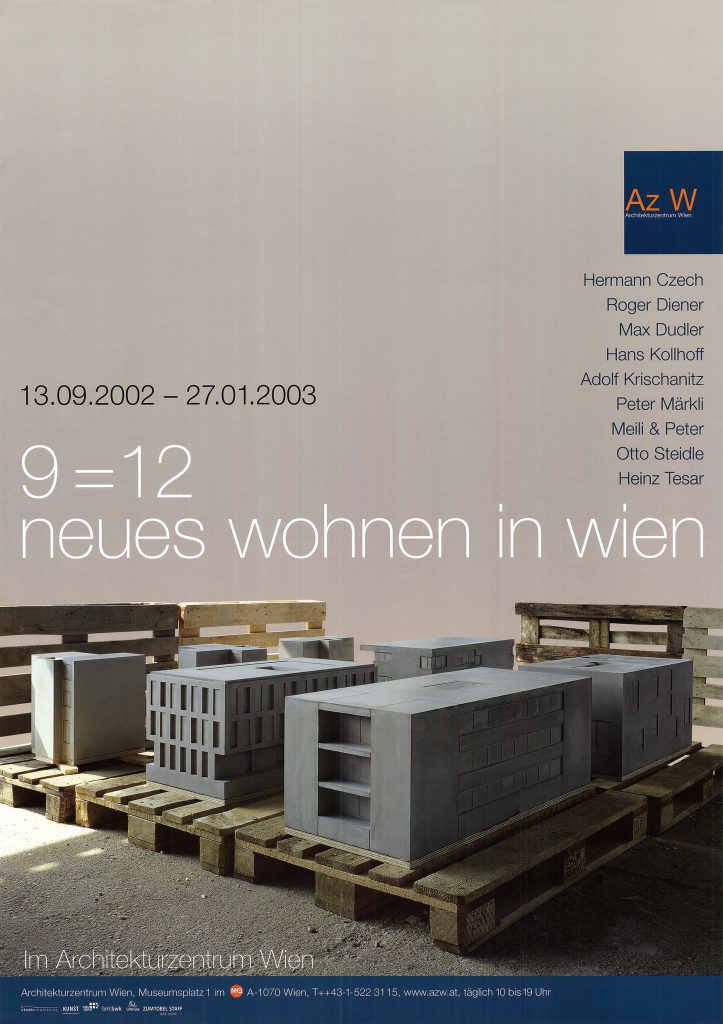 The exhibition 9=12. New Housing in Vienna presents the results of an experimental collaboration between architects from Germany, Austria and Switzerland, the building industry and developers. 9=12. New Housing in Vienna illustrates a concept for a model housing development in Hütteldorf am Mauerbach (Vienna) that promises to set new standards in the area of subsidised housing.
"All of the basic requirements have been met for a Werkbundsiedlung, for a pilot project, for the future of housing with exemplary and enduring architecture." Dietmar Steiner
On the basis of the masterplan by Adolf Krischanitz 12 buildings. each containing three to four units were designed. The project is innovative both in urban terms and as regards housing typology. As a modell it suggests a direction for denser but yet free- standing housing types. Landscape architect Anna Detzlhofer has developed a conceot for the external green space that provides a cohesive setting for the 12 differently interpreted volumes.
The architects:
Hermann Czech, Vienna
Roger Diener, Basel
Max Dudler, Berlin
Hans Kollhoff, Berlin
Adolf Krischanitz, Vienna
Peter Märkli, Zürich
Meili & Peter, Zürich
Otto Steidle, Munich
Heinz Tesar , Vienna
Inauguration speakers:
Dietmar Steiner, Architekturzentrum Wien
Johann Marchner, Lafarge Perlmooser AG
Adolf Krischanitz, Architect
Andreas Schieder, Council City of Vienna
A special issue of "hintergrund" to appear on the occasion of the exhibition presents the projects and essays contributed by the architects. German edition.
Sponsors:
Geschäftsgruppe Stadtentwicklung und Verkehr
Bundeskanzleramt Sektion Kunst
Wien Kultur
Bundesministerium für Bildung, Wissenschaft und Kultur
UNIQA Versicherungen AG
Zumtobel Staff Österreich Vertriebs-GmbH