Exhibition
5,000,000m3 Vienna
The New Large-Scale Projects
Thu 24.07.2003 – Mon 01.09.2003
Daily 10:00 AM - 07:00 PM, Wednesdays until 09:00 PM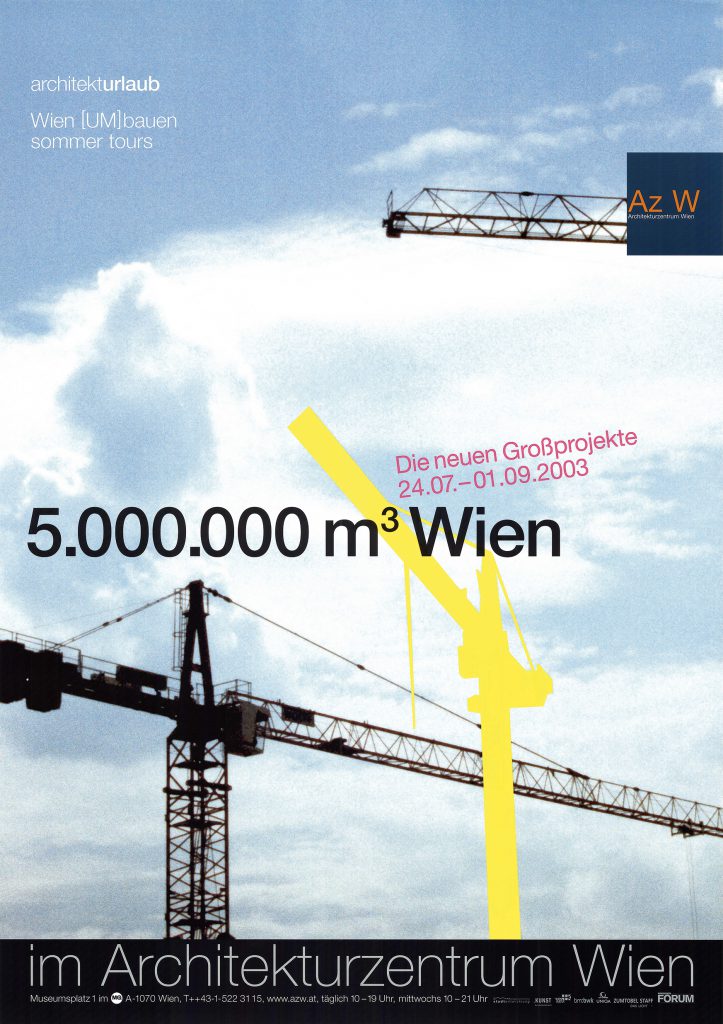 Wednesday, July, 2003, 07:00 pm:
Panel discussion 'Building in Vienna' (to be held in German)
followed by the opening of the exhibition.
Vienna 2003: It looks as if the collective subconscious of this city has suddenly managed to come up with a vision. As happened about ten years ago when a new Gründerzeit was declared in Vienna, today we once again find ourselves in a situation where an enormous number and diversity of projects of varying standards are being planned that will have far reaching effects in terms of urban development, and so which are forming the future face of this city.
Projects have primarily been selected that provide the most varied of functions in the areas of infrastructure, service, events and culture with a potential to act as strong magnets for their respective urban environments.
Some of these projects have been proposals for a long time, others are new and largely unknown. This survey is, for the first time, to provide an opportunity to grasp the full extent of these projects. For only then can one appreciate the full daunting extent of the pending urban development of Vienna over the next few years.
The Projects:
Donau-City:
Dominique Perrault / WED AG: Masterplan Vienna DC
Planning group comprised of the architects Hans Hollein and Heinz Neumann / WED AG: Saturn Tower
Prater:
Peichl & Partner/FCP/Erlach/Mossburger / MBG commissioned by the City of Vienna: Messe Wien Neu
Albert Wimmer / ÖBB Railway Offensive: Wien Nord – Praterstern station
Vienna Airport:
Arge Itten+Brechbühl AG, Baumschlager & Eberle / Flughafen Wien AG: expansion of Vienna Airport, masterplan
Wilhelm Holzbauer / Flughafen Wien AG: Office Park
Zechner & Zechner / Flughafen Wien AG: Tower at Vienna Airport
Erdberger Mais / Aspanggründe:
Arge Eurogate: Eurogate
Hans Hollein, Neumann & Partner, Hermann & Valentiny / Bauträger Austria Immobilien: Gate 2
Architecture consultants ZT GmbH Domenig – Peyker – Eisenköck / MM Liegenschaftsbesitz GmbH: St. Marx office and commercial centre, T-Center
Architecture consultants ZT GmbH; Hoffmann & Janz; Manfred Wehdorn / WSH Wiener Stadtentwicklungs- Holding GmbH: Rinderhalle St. Marx
The U-Bahn group of architects Holzbauer – Marschalek – Ladstätter – Gantar; Peichl & Partner; Coop Himmelb(l)au / Immobiliendevelopment Wr. Stadtwerke BMG & Soravia AG: Town Town
Laaerberg / Porr-Gründe:
Albert Wimmer; Hans Hollein / Porr Immoprojekt: Monte Laa Masterplan, 10 Towers high-rise office building
In The West:
Dietrich | Untertrifaller / Wiener Stadthalle: extension of the Wiener Stadthalle
Neumann & Steiner Architekten / ÖBB Immobilien: West Vienna competition
BUSarchitektur/Peter Podsedensek / Bauträger Austria Immobilien: Forum Schönbrunn