Panel Discussion
35 Years since 'Don't Panic'
Fri 10.11.2006, 19:00-21:00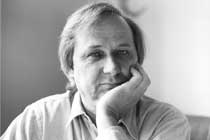 Panel discussion only in German
The panel:
Hermann Czech, architect
Christa Kamleithner, architecture theorist
Christian Kühn, architecture theorist
Marcel Meili, architect
Klaus Stattmann, architect
Moderator: Dietmar Steiner, director of the Az W
Hermann Czech's polemical 1971 text 'Nur keine Panik' (Don't Panic) has not only accompanied the development of architecture in Austria since its publication – also on a subliminal level. Architecture is background. Everything else is not architecture.was and remains the alternative response to Hans Hollein's diffuse sound byte "Everything is architecture".
That architecture thrusts itself into the media limelight by using means other than its own is no longer the exception but the rule. "Anybody who wants to halt a development is always on the wrong side", says Czech himself. "The architectural thought process moves on the levels of perception, in the change of significance… what lies before us: the overhaul of architecture from the spirit of trash."
The ways things are read change over the span of decades, but does the content change?
Admission free