Panel Discussion
25 Years of the Donauinsel
Lecture and panel discussion
Wed 13.11.2013, 19:00-21:00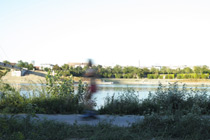 The 25th anniversary of the Donauinsel (Danube Island), which has turned out to be a Viennese success story, offers a suitable occasion for devoting an evening to the planning history of this project. Speakers will include people involved in and responsible for this major project, which was so hotly debated at the time it was planned.
As well as examining the creation of the Donauinsel the discussion will also look at alternative proposals – for instance building on the area – and at current development scenarios.
Introductory lecture: Harald Erber, formerly partner Zottl & Erber
Followed by a group discussion with:
Harald Erber, formerly partner Zottl & Erber
Stefan Karl Hübner, architect
Marija Kirchner, landscape planner
Gerald Loew, Head of MA 45 – Water Management
Heinz Marschalek, architect
and a statement from Bruno Domany, formerly Donauinsel coordinator, MA 45
Presenter: Thomas Knoll, manager of the ÖGLA
Admission free!