Congress
20th Vienna Architecture Congress
"In the End: Architecture. Journeys through Time 1959 – 2019"
Fri 18.11.2016 – Sun 20.11.2016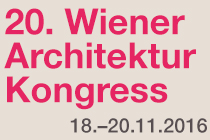 In his capacity as author and correspondent of several architecture magazines, in his role as participant in congresses and lecturer Dietmar Steiner has established an international network. With the foundation of the Architekturzentrum Wien in 1993, he pursued among other objectives, to use this network in order to bring international positions to Vienna. Especially the Vienna Architecture Congresses organized by the
Az W provided an appropriate stage for this aim.
The 20th Vienna Architecture Congress will now revive this tradition again and gather important international companions from Dietmar Steiner's architectural socialization for a large exchange of knowledge about days past, today and tomorrow, providing a commentary to the exhibition 'In the End: Architecture. Journeys through Time 1959–2019'.
The opening night covers the thematic range of the congress. A review of architecture history after 1950 with a focus on crisis as a permanent driving force for the architecture discourse is juxtaposed with a view of what architecture might achieve in the future and how the role of an architecture museum is defined in this context.
The panels of the two following days are structured in decades and discuss – closely following the historical references presented in the exhibition – the influences of the immediate past on the present and future of architecture, along with all the conflicts and misunderstandings that arise. Are we merely dealing with a repetition of history, or is the coming generation of architects prepared to use the past creatively and breathe new life into architecture with fresh approaches? Pursuing the motto of the exhibition – that every 'end' is accompanied by a critical new beginning – and in order to promote the intergenerational exchange a 'younger' generation of architectural theoreticians moderates the panel discussions.
The Congress is part of the VIENNA ART WEEK 2016.
Thanks to:
ALUKÖNIGSTAHL GmbH
Atelier Hayde Architekten ZT-GmbH
Bausparkasse der oesterreichischen Sparkassen AG
Heindl Holding GmbH
Mischek-Bauträger-Service GmbH
Raiffeisen Bausparkasse GmbH
WertInvest Hotelbetriebs GmbH
ZEYTINOGLU ZT GmbH
Hotel Partner:
INTERCONTINENTAL
For the INTERCONTINENTAL Vienna we offer special conditions for our congress guests.
More information: office@azw.at
HOTEL VIENNART AM MUSEUMSQUARTIER
20th Vienna Architecture Congress
"In the End: Architecture. Journeys through Time 1959 – 2019"
18 November 2016 – 20 November 2016
Congress Participants
Wiel Arets
Petra Ceferin
Jean-Louis Cohen
Hermann Czech
Irina Davidovici
Marco de Michelis
Nathalie de Vries
Roger Diener
Marc Dubois
Dagur Eggertsson
Oliver Elser
Angelika Fitz
Kathrin Golda-Pongratz
Anna Heringer
Jacques Herzog
Andreas Hild
Steven Holl
Ulrike Jehle-Schulte Strathaus
Elke Krasny
Rob Krier
Wilfried Kühn
Anne Lacaton
Bart Lootsma
Peter Märkli
Karoline Mayer
Vedran Mimica
Akos Moravánszky
Maroje Mrduljaš
Shane O'Toole
Juhani Pallasmaa
Dominique Perrault
Wolf D. Prix
Bruno Reichlin
Andreas Rumpfhuber
Yehuda Safran
Dietmar Steiner
Martin Steinmann
Stephan Trüby
Jean-Philippe Vassal
Georg Vrachliotis
Wilfried Wang
Ana Maria Zahariade
Mirko Zardini
Programme
FRIDAY, 18.11.2016
Opening night of the 20th Vienna Architecture Congress
18:00 Dietmar Steiner: Welcome
18:15 Karoline Mayer, co-curator of the exhibition: Introduction
18:30 Jean Louis Cohen: Crisis as Strategy – Architectural Anxiety since 1950
19:15 Angelika Fitz: What can Architecture do?
Admission free
SATURDAY, 19.11.2016
The Sixties: From critiquing Funtionalism to Utopias — The Last Avant-garde?
Moderated by: Georg Vrachliotis
10:30 -12:30 Dietmar Steiner: Welcome
Bart Lootsma: Body & Globe
Discussion with Maroje Mrduljaš, Wolf D. Prix, Andreas Rumpfhuber, Yehuda Safran
12:30 – 13:30 Lunch Break
The Seventies: Rediscovering the European City. Aldo Rossi and the Tendenza in Ticino
Moderated by: Wilfried Kühn
13:30-15:30 Ákos Moravánszky: Remembering the City. Aldo Rossi and the Refounding of Swiss German Architecture
Discussion with Ulrike Jehle-Schulte Strathaus, Jacques Herzog, Peter Märkli, Bruno Reichlin, Dietmar Steiner, Martin Steinmann
15:30-16:00 Break
The Eighties: The Impact of Postmodernism on the Urban Debate — From Soft Urban Renewal to New Urbanism
Moderated by: Oliver Elser
16:00-18:00 Wilfried Wang: Image versus Substance. The pathologies of modernism, of postmodernism and the search for substance
Discussion with Hermann Czech, Rob Krier, Ana Maria Zahariade
SUNDAY, 20.11. 2016
The Nineties: The Medialization of Architecture — The Impact of Signature Architecture on the Architecture Discourse
Moderated by: Irina Davidovici
10:30-12:30 Dietmar Steiner: Welcome
Vedran Mimica: The Nineties (at the Berlage Institute)
Discussion with Wiel Arets, Roger Diener, Dominique Perrault, Nathalie de Vries
12:30 – 13:30 Lunch Break
The Noughties: "Reset' — Sustainability Debates and New Simplicity
Moderated by: Elke Krasny
13:30-15:30 Petra Ceferin: Back to architectural materiality
Discussion with Dagur Eggertsson, Anna Heringer, Andreas Hild, Steven Holl, Anne Lacaton, Jean Philippe Vassal
15:30 – 16:00 Break
The Twenty-Tens: An Architecture Crisis? The End — Outlooks
Moderated by: Stephan Trüby
16:00-18:00 Juhani Pallasmaa: The limits of architecture
Discussion with Kathrin Golda-Pongratz, Marco de Michelis, Marc Dubois, Shane O'Toole, Mirko Zardini
The congress will be held in English (with the exception of the German-language discussion in the panel "The 70s").
Each lecture lasts ca. 30 min., followed by 15 min. of questions from the audience. Each discussion panel lasts ca. 75 min.
Subject to alterations