Panel Discussion
2020 Visions for the Schools of Tomorrow
lecture and discussion
Wed 13.04.2011, 19:00-21:00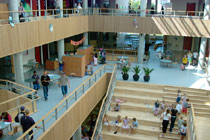 in German
Visions for the schools of tomorrow: there is no lack of slogans — from individually tailored open learning to de-schooling and virtual educational settings. But which of the visions are desirable, what spatial concepts and architectural solutions are required for their realisation? All of this is discussed in a panel discussion with architects, teaching experts, educational scientists and pupils.
7pm Brigitte Eisl, Az W, welcome address
7.10pm Jens Guldbæk, architect, co-founder of LOOP and Mie Brøns, consultant, partner of LOOP
7.40pm discussion:
Agnieszka Czejkowska, university professor of art and culture pedagogy
Mirjam Hutyra, pupil, GRG 21 Schulschiff
Günter Preisl, ground school teacher, VS Stiftgasse
Pirjo Nenonen, teacher, BRG Kandlgasse
Marta Schreieck, architect
moderated by Christian Kühn, chairman of the Architekturstiftung Österreich
admission free
Photos from the event '2020 Visions for the Schools of Tomorrow', held at the Architekturzentrum Wien April 13, 2011.