Party
20 Jahre Architekturzentrum Wien sind nicht genug!
Az W Podium, Alte Halle und Hof
Fri 06.09.2013, 19:00-21:00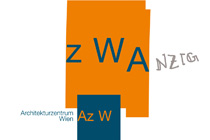 We have 20 years of groundwork with a dense and varied programme behind us, with familiar and previously unpublicised narratives from the built world. Over the past two decades the Architekturzentrum Wien has become a major player nationally and internationally in a context of modern and contemporary architecture. Cause for celebration.
It all began on the construction site, as things so often do. In 1993 the Architekturzentrum Wien launched its provisional operation, long before the establishment of the Museumsquartier had been ensured. The Architekturzentrum Wien was quick to develop from this bottom-up foundation into a highly renowned and respected architecture institution.
The following objective was formulated back at the time of its founding: The presentation, discussion, publication and archiving of architecture. While the presentation and the mediation of architecture stood at the focus of activities in the first few years, today the Az W also concentrates on all of the activities of a classical museum: collection, storage, research, publicity and exhibitions. As the only institution in Austria to do so, the Architekturzentrum Wien is dedicated to the ongoing rigorous appraisal and custody of the history of modern architecture in this country, and serves as an international interface for information and enquiries of all kinds. One of the key aims of the Az W is to increase public awareness of the need to conserve this cultural heritage. For architecture — the design of our environment — influences all areas of life and has a sustained impact on our society. With the 'Az W Gold' exhibition presented last spring, where the institution's excellent collection was put on display for the first time, the Architekturzentrum Wien finally achieved recognition as a museum of Austrian architecture. Accordingly, it should occupy a permanent position in the Austrian Museum landscape.
20TH JUBILEE PROGRAMME
welcome address: Hannes Pflaum, president of the Az W
presentation of the film "20 Jahre Az W"
conversation with Maria Vassilakou
conversation with Dietmar Steiner and Karin Lux
conversation with Dietmar Eberle und Dietmar Steiner
presentation of the publication "20 Jahre Az W" and the dia(pro)grammatic installation
Siegfried Loos will guide you through 20 years oft he Az W
Party with a tombola and DJ Samir