Congress
14th Vienna Architecture Congress
Bottom up. Building For A Better World
Fri 17.11.2006 – Sun 19.11.2006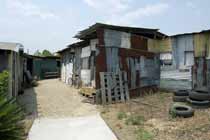 The 14th Vienna Architecture Congress places sustainable planning and building in its social, economic environmental and political context as a basis for discussion.
The projects presented and the practices fall into two basic groups: university education-related where, in addition to the abstract academic curriculum, students are confronted with practical problems involved in the realisation of projects; and architectural initiatives, networks and offices concerned with participatory, sustainable and democratic planning and building processes for social situations in a context of development aid or catastrophe support.
Where no official support is available for the building of infrastructure, local and international initiatives and educational programmes are formed that aim to close this gap and draw on the local population to spontaneously erect necessary individual buildings.
Individual architects' offices deliberately employ a two-track approach, developing new concepts for social housing developments alongside their prize-winning individual buildings – such as Alejandro Aravena in Chile.
The way he improved the structures in a crisis-ridden city with the help of 'urban acupuncture' is described by Jaime Lerner, the mayor of and town planner in Curitiba, Brazil.
'S2arch. Social and Sustainable Architecture' is an Austrian educational programme whose buildings are on show in an exhibition running parallel to the symposium, and does not regard itself as a development aid project. Instead, they place an explicit focus on the participatory and practice-orientated aspects of educational work under the motto 'Learn together, build together', a motto which 5 universities and a technical college followed, and built infrastructure and school buildings in townships in South Africa. The buildings of the individual student workgroups are presented in brief lectures and subsequently discussed in various rounds of talks.
What happens in the cultural transfer of design concepts by European architecture schools in the context of a practical building programme? Can hegemonic relationships as discussed under the heading 'Postcolonial Studies' be excluded from the architecture debate, and what are the key instruments and categories in teaching students the significance of social and sustainable architecture?
Friday, 17.11.2006
Programme Friday, 17.11.2006
18.00
Opening
Rudolf Schicker, Urban Planning Vienna
18.15
Introduction
Bart Lootsma, Architectural theorist
18.30
Christoph Chorherr, Founder, S2arch
Social and Sustainable Architecture
19.30
Steve Badanes, Architect, USA
The Practice of Jersey Devil Architects
Saturday, 18.11.2006
Programme Saturday, 18.11.2006
Presentation and Discussion: S2arch – Social and Sustainable Architecture
14.00 Introduction
Christoph Chorherr
14.15
Project Presentations
Peter Fattinger, Technical University Vienna
Orange Farm, 2004
Masibambane College, 2004
Behindertenheim Modimo O Moholo, 2006
15.00
Daniela Tolanov, University of Arts, Linz
Teddy Bear-School, 2006
15.30
Gernot Kupfer, Technical University Graz
Weilers Farm, 2006
16.00–16.30
Coffee Break
16.30
Dustin Tusnovics, Technical School Kuchl
Montic Primary School, 2006
17.00
Bernadette Heiermann, RWTH Aachen
Montic Preschool – Kindergarten, 2006
17.30
Astrid Dahmen, Walter Prenner, Technical University Innsbruck
Kindergarten in Olifantsvlei, 2006
18.00-18.30
Coffee Break
18.30
Zunaid Khan, Urban Planner, South Africa
Building Townships
19.30
Johannes Porsch, Curator Architekturzentrum Wien
Un jardin d'hiver: Presentation
20.30
Final Discussion
Sunday, 19.11.2006
Programme Sunday, 19.11.2006
14.00
Andrea Rieger-Jandl, Technical University Vienna
Borderless Building. Cultural and Social Aspects of a Trans-Local Architecture
15.00
Peter Burk, Architects without borders, Germany
Building in Crisis- and Development Regions
16.00-16.30
Coffee Break
16.30
Alejandro Aravena, Architect, Chile
The Practice of Elementalchile – Recent Projects
17.30
Gareth Jones, London School of Economics
Monsters in the Closet: The Aesthetisation of Poverty and the Slum as Theme Park
18.30
Final Discussion
Short Biographies
Alejandro Aravena
Architect, Founder of Elementalchile, Santiago, Chile
Recent Projects:
Medical School, Universidad Católica Santiago, 2004
Montessori School, Santiago, 2001
Mathematics School, Universidad Católica, Santiago, 1999
Sculptor's House, Santiago, 1998
www.elementalchile.org
Steve Badanes
Architect, Founder of Jersey Devil. He cofounded the Design/Build Mexico programme and leads design/build studios at the University of Washington that have focused on community service projects for non-profit organisations in the Seattle area.
www.jerseydevildesignbuild.com
Bryan Bell
Founder of Design Corps, Raleigh, North Carolina, a non-profit agency whose mission is "to provide the benefits of architecture to those traditionally unserved by the profession." Has also started an internship programme with the AmeriCorps national service programme for youngdesigners interested in the social application of architecture.
www.designcorps.org
Peter Burk
Architect, Chairman of Architects without borders, Stuttgart, Germany
Recent publication: Building-Planner Crisis- and Developing Regions (engl. Editition) Fraunhofer IRB-Verlag, 2005
www.architekten-ueber-grenzen.de
Gareth A. Jones
Senior Lecturer, London School of Economics, Geography and Environment Department
Recent publications:
Culture and politics in the "Latin American" city. in: Latin American research review 41, no. 1,
2006
Children and development: rights, globalisation and poverty, Progress in development studies 5, no. 4, 2005
Housing policy (Mexico), in: Encyclopaedia of social welfare history in North America, Ed. Herrick, J.M.; Stuart, P.H. Sage, 2005
www.lse.ac.uk
Zunaid Khan
Architect and Urban Planner, Johannesburg
Jaime Lerner
Architect, Urban planner and Mayor of Curitiba, Brasilia, 2002-2005 President of the International Union of Architects, Founder of Instituto Jaime Lerner
www.jaimelerner.com
Johannes Porsch
Curator, Architekturzentrum Wien
Exhibitions: Un jardin d'hiver, Ottokar Uhl, The Austrian phenomenon. Konzeptionen Experimente Wien Graz 1958-1973, Sturm der Ruhe. What is Architecture?
Andrea Rieger-Jandl
Technical University Vienna, Institute for
Art History, Building Research and Preservation
Andrea Rieger-Jandl studied in Austria and in the USA. She has a diploma in architecture and a PhD-degree in social and cultural anthropology. Since 2000 she has been teaching and researching at the Institute of History of Art and Architecture, Building Archaeology and Restoration at the Vienna University of Technology. Her research focuses on comparative studies on architecture in a socio-cultural context.
Publications: Building Culture – Towards a "Global" Architecture, Neuer Wissenschaftlicher Verlag, Wien, 2006; Living Culture in the Himalayas. Anthropological Guidelines for Building in Developing Countries, Facultas Verlag, Wien, 2005
www.baukunst.tuwien.ac.at
S2Arch is a network, initiated by Christoph Chorherr, of local public institutions, private
non-profit organisations as well as international sponsors. The focus of the initiative is on educational and integrative facilities, kindergartens, schools and day-care centres.
Project Presentations:
Technical Universities Innsbruck, Graz, RWTH Aachen, Institut of Space and Design, Kunstuniversität Linz, Fachhochschule Kuchl
http://sarch.twoday.net