Congress
13th Architecture Congress Vienna
Leisure Spaces
Fri 11.11.2005 – Sun 13.11.2005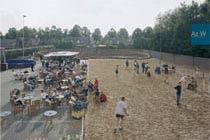 The term "leisure" has traditionally been seen as the counterpart to 'work', however this relationship appears to be changing. Work-free time used to be thought of as time to recuperate used by a working society to regenerate.
The emergence of the 'experience society' – where an individual is no longer exclusively defined through work but creates its own personality through patterns of consumption in a strongly diversified leisure industry – is opening new functions for 'free-time'. There are various reasons for this shift. It could lie in the fact that people today have more work-free time at their disposal than ever before, and that their eventless and risk-free working day has to be compensated for in their free-time. The inevitable re-evaluation in the future of worklessness will, because of economic constraints, for its part have to bring about new shifts in the significance of free-time that go beyond consumer behaviour.
The promotion of identity through consumption in the broadest sense has established an industry the effects of which on the built environment cannot be overlooked and which represents major commissions for architects and planners.
Large shopping and entertainment centres are situated on the urban periphery, like the stadiums, where they form isolated fortresses for sport and experiential worlds that can be monitored and controlled. In other locations new urban fabric is arising that has been planned as experiential and shopping centres on a large scale, giving the location a completely new face and, in a best case scenario, having a rejuvenating effect. Even the classical facilities for 'recuperation' are loaded with a bonus: the bathing holiday is catered for with 'Wellness', the hotels are becoming theme parks or spiritually optimised by Feng Shui consultants. Nature is becoming a part of the architecture, and it is being artificially generated in biospheres where there was none.
The leisure industry's building requirements have always been an important matter to architects. Although the experience has long been the primary concern, the object and its shell are only rarely an issue. A new melting of town and country, of the urban and the bucolic, of the existing with borrowed filmic scenarios is generating new experiential worlds today. The 13th Wiener Architektur Kongress is presenting new examples of the way architecture is mutating from the shell to independent apparatus, to a leisure instrument and the production of yearnings. It is itself on show and no longer merely an arena. The topic is stage-managed environments, car worlds and similarly strange ones.
Programme Fri., Nov. 11., 2005
Programme Fri., Nov. 11., 2005
19.00
Opening Christoph Chorherr, Grenn party member of the municipal council, City of Vienna
19.15
Dietmar Steiner, Director Architekturzentrum Wien
Architectural spectacles: As you like it!
19.45
David E. Rogers, The Jerde Partnership, Los Angeles
"Placemaking" for the great body of ordinary people
Congress-Moderation: Bart Lootsma, Architecture Critic, Vienna
Simultaneous Translation German/English
Programme Sun., Nov. 13, 2005
Programme Sun., Nov. 13, 2005
14.00
Michael Zinganel, Architect and cultural theorist, Vienna
(Stationary or) ephemeral stages in alpine experience landscapes
15.00
Frank Roost, Urban and regional planner, Berlin
Eventworld Autostadt Wolfsburg, Deutschland
16.00-16.30 Coffee Break
16.30
Querkraft, Architects, Vienna
Adi Dassler Brand Center
17.30
Delugan_Meissl, Architects, Vienna
Porsche Museum
18.30-19.00 Coffee Break
19.00
Hermann Tilke, Architect, Aachen, Germany
Racing Architecture
20.00 Final Discussion
Congress-Moderation: Bart Lootsma, Architecture Critic, Vienna
Simultaneous Translation German/English
Programme Sat., Nov. 12., 2005
Programme Sat., Nov. 12, 2005
14.00
Klaus Thien, Historian, Österreichisches Institut für Erwachsenenbildung, Vienna
The History of Leisure
15.00
Rod Sheard, Architect, HOK, London
Sport Stadia – architecture of the new global culture
16.00-16.30 Coffee Break
16.30
Annette Baldauf, Sociologist, New York / Vienna
MQ, Technologies of Vision and the Myth of Social Integration
17.30
Dorit Margreiter, Artist / Vienna
18.30-19.00 Coffee Break
19.00
Hal Rothman, University of Nevada, Las Vegas
Vision, Shape, and Scope: Las Vegas and the Transformation of the Face of Leisure
Congress-Moderation: Bart Lootsma, Architecture Critic, Vienna
Simultaneous Translation German/English