Congress
12th Vienna Architecture Congress
Intelligent Regions
Fri 12.11.2004 – Sun 14.11.2004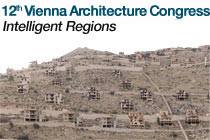 For a few years now the architects, the planners, the social scientists and the economists have been focussing with interest on a field of research alongside the metropolises: the region. Several large-scale studies on the most diverse of European regions have been published over the past few years in which well-known architecture studios participated: StadtLand Schweiz, RheinRuhrCity, Costa Iberica and Hiper Catalunia being just a few examples for this development.
With all the variations in their emphasis and the problematic issues of location, the studies do have a fair amount in common. They all try to find development strategies for the future on an interdisciplinary and on an international level, they combine demographic and sociological data with issues of infrastructure and economic improvement for the location, to develop sustainable structures and the interaction between metropolitan and rural environments.
The 12th Vienna Architecture Congress will attempt to take stock for these new European regionalisations, beginning in Austria with the dynamic area of growth Rheintal and its connection to the StadtLand Schweiz, and Vienna and surroundings (Project Centrope) as a linchpin between East and West Europe. The congress introduces the most prominent research projects from South and Central Europe.
Congress moderated by: Bart Lootsma, Architecture theorist, Vienna
Simultaneous Translation German/English
Programme Fri. 12.11.2004
Friday 12.11.2004
05.00pm Opening
Dietmar Steiner, Director Architekturzentrum Wien
05.15pm Opening statement
Rudolf Schicker, Executive Councillor of Vienna for Urban Planning
06.00-07.00pm
Multiplicity
Stefano Boeri, Architect Venice/Milan
07.00-08.00pm
Hiper Catalunya
Manuel Gausa, Architect, Barcelona
08.00-08.30pm Coffee Break
08.30-09.30pm
Peter Sloterdijk, Philosopher, Hochschule für Gestaltung Karlsruhe
Congress-Moderation: Bart Lootsma, Architecture Critic, Vienna
Simultaneous Translation German/English
Biografies
Josep Acebillo Marin
Guest Professor at the School of Design at Harvard University. Director of the Agenzia Metropolitana Barcelona Regiona. Chief-architect for Infrastructural and urban development of the city of Barcelona.
Omar Akbar
Architect, Professor of urban planning and architectural theory at Hochschule Anhalt, since 1998 Director of the Bauhaus Foundation Dessau.
Markus Berchtold
Spacial planner, collaboration PRISMA regional development, Dornbirn, since 2000 head of the Architectural Institute Vorarlberg.
Stefano Boeri
Architect, editor in chief of domus, Milano. Partner of "Boeri Studio". Founder of "Multiplicity", a research agency concerned with the state of urban living through which he has promoted a series of research projects and installations.
Angelus Eisinger
Economist. Professor for regional development at the Hochschule Liechtenstein/Vaduz. Works in the fields of contemporary architecture, urban and spacial development. Cooperations witht architectural offices, consultant in the fields of planning and urban development.
Manuel Gausa
Architect and Founder of Actar Arquitectura, Barcelona.
Ulrich Hatzfeld
City- and Regional planner, since 1996 member of the ministery of city planning of Nordrhein-Westfalen, responsible for legal issues concerning city planning, areal development, city renewal of Nordrhein-Westfalen.
Bart Lootsma
Historian, critic and curator in the fields of architecture,design and the visual arts. Visiting Professor at the Akademie der Billdenden Künste in Nürnberg. Editor of ARCHIS and GAM, member of the Scientific Committee of ArchiLab in Orléans.
Winy Maas
Architect, MVRDV Rotterdam. Winy Maas regularly holds lessons and workshops in schools and institutions all over the world (AA London, Berlage Institute Amsterdam, Universities of Delft, Eindhoven, Berlin, Barcelona, Oslo and Vienna, at the Cooper Union New York and in Los Angeles, Chicago, Boston and Princeton).
Michaela Paal
Professor for urban geography and spacial planning at Philipps-University Marburg. Current fields of research: urban transformation processes in connection with the change of political systems, social fragmentation in cities, urban governance and international comparison of planning policies.
John Palmesino
Architect, Member of Studio Basel, a research institute of ETH-Zürich, Founding member of Multiplicity.
Friedrich Schindegger
Spacial planner, since 1967 researcher and planner at the Austrian Institute for Spacial Planning. Teaches at the Technical University Vienna. Numerous publications on regional and spacial planning in Austria.
Michel Schneider
Social scientist (Economics, sociology and politology), scientific researcher at Avenir Suisse with the main focus on federalism and spacial development.
Michael Shamiyeh
Co-Founder of the interdisciplinary office for architecture, urbanism and culture in Linz. Founder and Director of DOM (Design-Organisation-Media), a research laboratory in cooperaton with the Ars Electronica Center at the University of Arts in Linz, Upper Austria
Peter Sloterdijk
Author, numerous works on cultural- and religious philosophy, art theory and psychology. Rector and professor of Philosophy and Media Theory at the Hochschule für Gestaltung, Karlsruhe, head of the Institute of Cultural Philosophy at the Academy of Fine Arts, Vienna.
Programme Sat. 13.11.2005
Saturday 13.11.2004
02.00-03.00pm
The Making of Regions
Winy Maas, Architect, MVRDV Rotterdam
03.00-04.00pm
Regions and Qualification
Ulrich Hatzfeld, Ministery for City Planning, Nordrhein-Westfalen, Germany
04.00-04.30pm Coffee Break
04.30-05.30pm
From Government to Governance? Corporate Regional Development in the Munich Region
Stefan Reiß-Schmidt, Department of City planning Munich
05.30-06.30pm
Beyond Shrinking. IBA 2010 Sachsen Anhalt
Omar Akbar, Director Bauhaus Stiftung, Dessau
06.30-07.00pm Coffee Break
07.00-08.00pm
New metropolitanism. Barcelona case study
Josep Acebillo Marin, Chief architect city planning, Barcelona
Congress-Moderation: Bart Lootsma, Architecture Critic, Vienna
Simultaneous Translation German/English
Programme Sun. 14.11.2005
Sunday 14.11.2004
02.00-03.00pm
Operation City. Central area of Upper Austria as Case Study in the age of globalisation
Michael Shamiyeh, Head of DOM Research Laboratory, Linz, Austria
03.00-04.00pm
Visions for the Rheintal region
Friedrich Schindegger, Österreichisches Institut für Raumplanung, Vienna
Markus Berchtold, Vorarlberger Architektur Institut, Dornbirn, Austria
04.00-04.30pm Coffee Break
04.30-05.30pm
New Competition in European Agglomerations – the Suburbanisation of the Service Sector and the changing urban landscape
Michaela Paal, University Marburg, Germany
05.30-06.30pm
Openings and Transpositions. Working with StadtLand Schweiz
Michel Schneider, Angelus Eisinger, Avenir Suisse
06.30-07.00pm Coffee Break
07.00-08.00pm
Das Studio Basel
John Palmesino, Architect, Basel
08.00pm Final Discussion
Congress-Moderation: Bart Lootsma, Architecture Critic, Vienna
Simultaneous Translation German/English