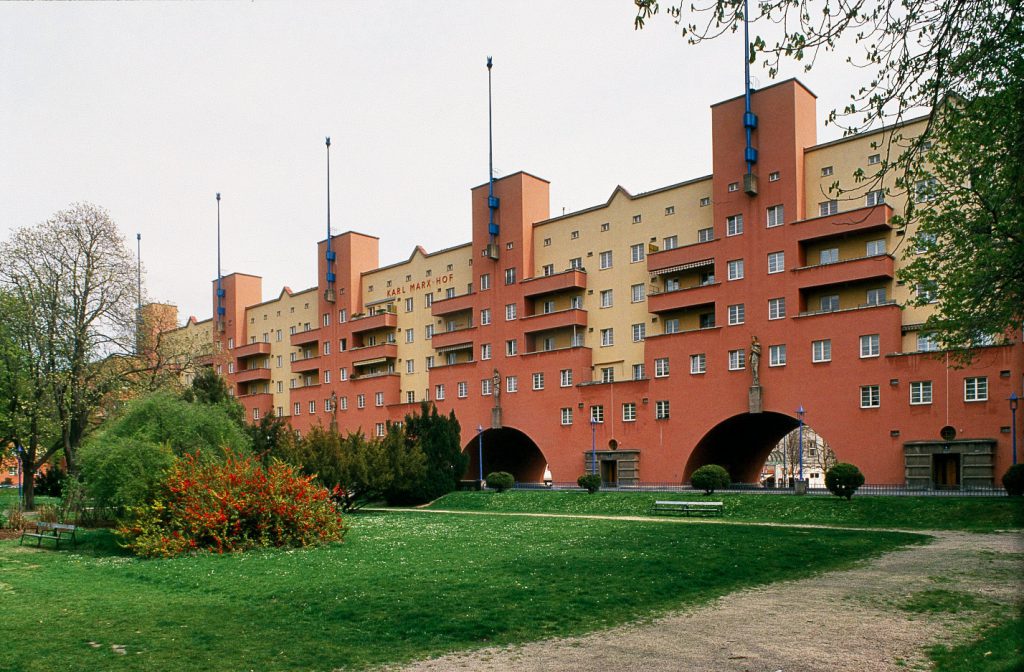 100 years after the Social Democrats won the first municipal elections following the accession of voting rights for men and women, Vienna is still known as a pioneer in social housing, whose roots go back to the time of Red Vienna. Driven by the project to significantly improve living conditions for local residents based on the principles of light, air and sun, the Social Democratic Workers' Party instigated a reform programme that continues to shape urban development and housing policy as well as the cityscape to this day.
Red Vienna was a holistic socio-political experiment. It manifested itself in, among other things, labour policy, social policy, health policy and in education. Its built implementation takes the form of the around 380 council housing buildings that were realised under two housing development programmes.
At the centre of the excursion are the famous residential complexes Karl-Marx-Hof and Sandleiten-Hof, with their special infrastructural offers. Following two contrasting urban development models, the characteristics and special features of both of these residential complexes are exemplary for municipal housing developments of the time.
Meeting point: U4 Heiligenstadt (exit metro station, in front of Anker bakery)
Karl-Marx-Hof, Karl Ehn 1930
Ride by public transport
residential complex Sandleiten, Emil Hoppe, Otto Schönthal, Franz Matuschek, Siegfried Theiss, Hans Jaksch, Franz Krauß, Josef Tölk 1928
Kongresspark, Erich Leischner (design) 1927
End: Kongressbad, Erich Leischner 1928