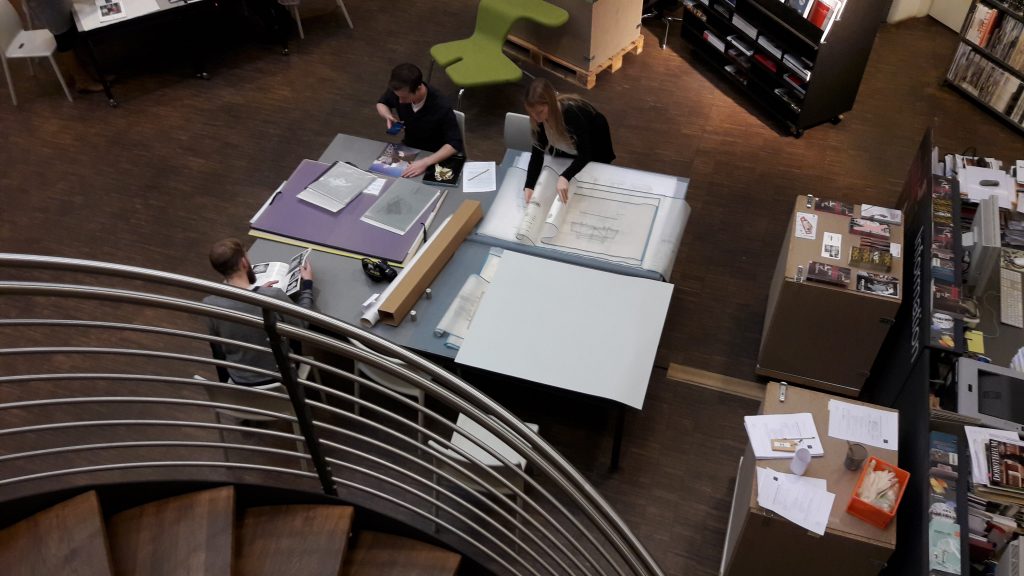 Communities of Tacit Knowledge: Architecture and its Ways of Knowing
'TACK / Communities of Tacit Knowledge: Architecture and its Ways of Knowing' is a newly funded Innovative Training Network, as part of the Marie Sklodowska-Curie Actions within the European Framework Program Horizon 2020. It trains young researchers in understanding the specific knowledge that architects use when designing buildings and cities. TACK gathers ten major academic institutions, three leading cultural architectural institutions as well as nine distinguished architecture design offices. Collaboratively these partners offer an innovative PhD training program on the nature of tacit knowledge in architecture, resulting in ten parallel PhD projects.
Design projects commonly emerge from collaborations between designers, makers (builders, crafts(wo)men etc.), clients and a variety of experts, including social scientists, commercial, economic or technical advisors, critics and heritage consultants. This extended design team is thus composed of individuals with various backgrounds, different professional assumptions and varying perspectives of expertise. Architecture operates at the intersection of knowledge domains (arts, humanities, social sciences, applied technology) and has the capacity to create new solutions and perspectives based on its inherently synergetic knowledge production. So, architectural designs are the result of complex and occasionally conflicting sets of requirements that can only be reconciled through processes of negotiation between different disciplines and different fields of knowledge. These negotiations imply forms of synergetic thinking, which often rely on implicit common understandings, or tacit knowledge.
Tacit knowledge may be embedded in the relations between people, and is specific to particular historical developments and traditions. Tacit knowledge often results from the personal experience of making and thinking and therefore connects intellectual and practical work. It produces knowledge that is embedded in a community. As tacit knowledge is an essential element of the heuristic methods of knowledge production in the field of design it also contains a significant potential of absorbing and responding to change. Tacit knowledge offers designers highly relevant instruments for dealing with constantly fluctuating conditions and a set of complex and apparently contradictory requirements.
Further information: TACK
Academic partners:
ETH Zürich, Delft University of Technology, KTH Royal Institute of Technology, Oslo School of Architecture and Design, Bergische Universität Wuppertal, Politecnico di Milano, Academy of Fine Arts Vienna, University of Antwerp, University College London, Leibniz Universität Hannover
Non-Academic Partners:
Architekturzentrum Wien, Het Nieuwe Instituut, Flanders Architecture Insitute, architecten de vylder vinck taillieu, Korteknie Stuhlmacher Architecten, Spridd, De Smet Vermeulen architecten, Cityfoerster, One Fine Day architects, SOMA Architecture, Onsite studio, Snøhetta
Reframing Postwar Architecture in Austria — West Germany — Switzerland, 1945–1968
Since 2019: Research
The aim of this international research project is to undertake an interdisciplinary recontextualisation of the narrative of the postwar architectural history in the three countries with regard to the global issues of the time.
In Austria and Germany the architecture of the postwar years was encountered with scepticism in many places. This position of rejection is not only founded in the moral implications of the politics of the era of rebuilding, but also in a modernity misunderstood as technology led mass production. There was a close relationship to Switzerland due to the geographic proximity, the shared language, the residency of Austrian and German groups of resistance during the war years and the long years of connection between international interest groups like the Werkbund and the CIAM (Congrès Internationaux d'Architecture Moderne), onto which could have been built directly after 1945. The Swiss colleagues as well as their specialist media created a door to the rest of the world for the two neighbouring countries. At the same time, the three countries shared that they were searching for a new cultural/political identity that led to a national reorientation under the direction of the Allies. The 'perpetrator nation' Germany sought a radical break with its Nazi past, Austria's claim to 'victim status' was to soften the political and economic consequences of the war and 'neutral' Switzerland was making efforts to emerge from its isolated situation.
Project partners:
Architekturzentrum Wien (Az W), Monika Platzer
Südwestdeutsches Archiv für Architektur und Ingenieurbau (saai), Karlsruhe Institute of Technology (KIT), Georg Vrachliotis
Institute for the History and Theory of Architecture (GTA), ETH Zurich, Bruno Maurer
Chair of History of Architecture and Curatorial Practice, Architecture Museum of the Technical University of Munich, Regine Hess
From 24 to 26.1.2020, an international symposium was held at the Az W, under the title Cold Transfer. Architecture, Politics, Culture. Germany — Austria — Switzerland after 1945, to look at and compare practise in the building sector and the socio-political conditions in the three countries. The symposium was a cooperation by the Az W with the Austrian Marshall Plan Foundation.
Architekturführer Niederösterreich (architecture guidebook of Lower Austria )
Since 2018: study and appraisal of the Lower Austrian index cards by Friedrich Achleitner, and their supplementation to compile an extensive architecture guide of Lower Austria.
A cooperation between the Architekturzentrum Wien and Vienna University of Technology
Over 40 years ago Friedrich Achleitner began his ambitious project to make a compilation of Austrian architecture in the 20th century, which was intended to be published in four volumes. He covered thousands of kilometres in its making, took thousands of photographs and wrote his own characteristic texts. His innumerable trips to the original locations have ultimately led to the several volumes of his famous Architekturführer, only the largest federal province of Austria remained unfinished, Lower Austria.
On the initiative of the former Director of the Az W Dietmar Steiner, in 2018 a research project was launched with the goal of publishing an architecture guide to Lower Austria. The book, although inspired by the volumes already in print, was not intended to copy them as neither Achleitner's working approach nor his writing style should be subjected to imitation with a third visit to the objects concerned.
From January to September 2019, in an intense collaboration with students of Vienna University of Technology, Dietmar Steiner and Margarete Cufer, the 3,758 hand-written index card entries by Friedrich Achleitner, Dietmar Steiner, Margarethe Cufer and Margarethe Heuberger-Sentobe were completely digitised and transferred to the Az W digital database. The 875 strips of negatives with 5,250 individual black and white images of the objects documented by Achleitner have now also been digitised, identified and added to the index card entries.
At the same time, a digital database with the 764 objects from the ORTE Architekturnetzwerk NÖ and the Führer St. Pölten guides to the relevant architectural landscape has been recently updated and extended by Otto Kapfinger. Subsequent steps are also already making progress: the first short films on the key participants in the planning processes, such as Franz Fehringer and Norbert Steiner, are in production.
Az W project team: Ingrid Holzschuh, Monika Platzer
The project is supported by: FORUM MORGEN.
Hans Hollein (1934–2014)
Since 2016: Processing the Estate
"For sixty years Hans Hollein has been the most influential and internationally significant architect from Austria. No other Austrian architect has contributed to a similar extent to the international debate and the development of architecture." (Dietmar Steiner, former Director Architekturzentrum Wien)
Project team: Mechthild Ebert, Monika Platzer, Katrin Stingl
In 2016 the Republic of Austria acquired the Hans Hollein Archive, the most important and comprehensive estate relating to the history of Austrian architecture in the 20th century. This archive was taken over by the MAK – Museum für angewandte Kunst –and transferred to the Architekturzentrum Wien in the form of a permanent loan. This transfer set up a form of cooperation, unique between cultural institutions in Austria, the "Archive Hans Hollein, Az W and MAK, Vienna". At present the estate, which amount to 300 pallets, is being sorted and inventoried according to museum standards.
Diploma Theses, Master Degree Theses, Doctoral Theses, Studies
Merken