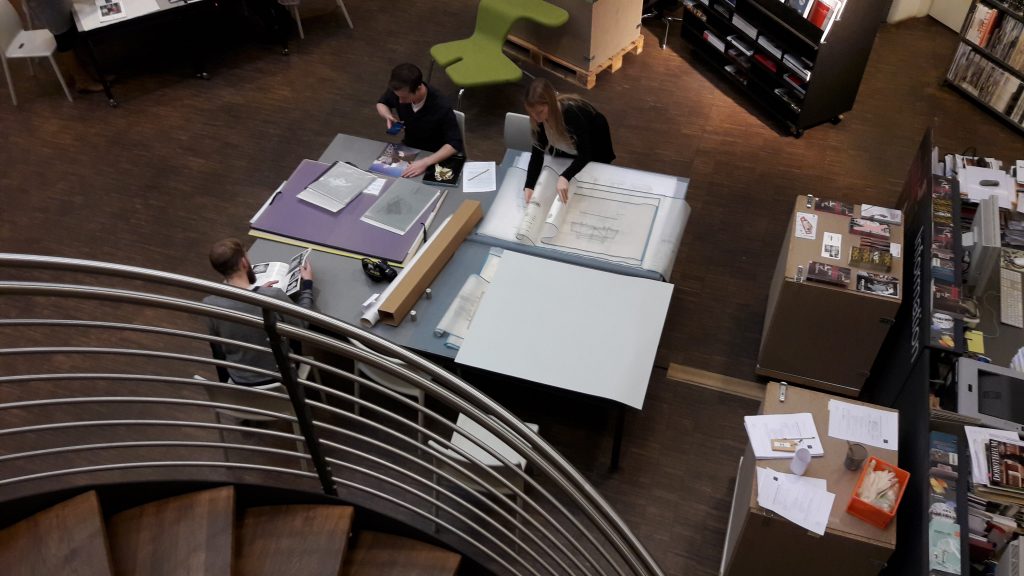 International Workshop
Rediscovering Ella Briggs – The Challenge of Writing Inclusive Architectural Histories for Women Who Broke the Mold
Thur, 09.06.2022, Dietmar Steiner Library
Concept and Organization: Elana Shapira with Despina Stratigakos and Monika Platzer
Recent public discussions on the role of women architects in shaping Red Vienna as well as on the influence of Austrian émigré architects in Britain has focused scholarly attention on Ella Briggs (1880-1977), a modernist who worked in Austria, the United States, Germany, and Britain.
The workshop will bring together leading scholars from the United States, Britain and Austria to present their research on Briggs in a collaborative forum intended to "recover" the biography, career, and contributions of an architect who forged new paths both as a woman and as a modernist. In the process, the symposium also seeks to understand her role in shaping urban citizenship in the interwar period and the place of her story within historical memory in Vienna today.
Ella Briggs (née Elsa Baumfeld) was born in 1880 to a well-to-do Jewish bourgeois family in Vienna. She married Viennese lawyer Walter J. Brix, who changed his name to Briggs after he immigrated to New York City. After her divorce and return to Europe, Ella Briggs established herself as an independent woman and successful architect in Vienna and Berlin. Facing persecution in Hitler's Germany, Briggs fled to England where she reconnected with other Austrian émigrés and continued her architectural career. Despite new research on Briggs' modernist architecture and a growing acknowledgement of her position as the "second woman architect of Red Vienna," many questions remain about her biography and career. It is therefore critical to provide a platform for scholars from different disciplines to address Briggs' career as designer, architect, and critic.
Each speaker will present a talk on different aspect of Briggs' biography and career. The workshop will conclude with roundtable discussions addressing methodological and research challenges in reconstructing the biography and career of Briggs as well as the question of how to position her career in the broader context of inclusive narratives that seek to go beyond mainstream architectural histories. The International Workshop seeks to broaden the historiography of Austrian architecture beyond social democratic and conservative party lines and even beyond its national borders, thereby adding new layers of complexity to civic memory in Austria, Germany, Britain, and the United States today.
Ambivalences of Modernity. The Architect and City Planner Roland Rainer between Dictatorship and Democracy. FWF (P 34938-G) January 2022-2024
Roland Rainer was one of the best-known architects and urban planners of post-war modernism in Austria. The Stadthalle in Vienna (1958), the Puchenau housing estate near Linz (1965-2000) and the ORF Centre in Vienna (1968-1974) are among his buildings. It is less well known that he went to Berlin as early as 1936, two years before Austria's "Anschluss" to the National Socialist German Reich in 1938, and placed himself in the service of the German Academy for Urban Development, Reich and Regional Planning (DASRL), which was practically and theoretically subordinate to Albert Speer, the General Building Inspector for the Reich capital. Consequently, he was integrated into the National Socialist system not only through his early membership in the NSDAP, but also through his practice, hardly just through opportunism. In fact, he already developed his central theories on urban planning and architecture in the early 1940s at the DASRL. During this period, he conceived and wrote, together with his colleagues Johannes Göderitz and Hubert Hofmann, the first version of Die gegliederte und aufgelockerte Stadt, which was published in 1945 and became a standard work in German-speaking countries in its second version of 1957.
This writing contains something typical for its time: it criticises the modern, densely populated city, it pleads for a garden city model in which living, working, traffic and leisure are disentangled and people live "at ground level". Only in the first version is this living "folk-biologically" propagated as the right way of living. Racist dictions like this are no longer found in the second version of 1957. But has the concept changed significantly as a result?
The research project, a collaboration between the Academy of Fine Arts Vienna (where Rainer taught as a professor) and the Architekturzentrum Wien (where Rainer's estate is located), will be dedicated to investigating this question in two ways. On the one hand, Rainer's historical development as a modernist architect will be examined in more detail for the first time; this includes his time as a student at the Vienna University of Technology in the 1920s. On the other hand, a current reassessment of the "ambivalence of architectural modernism" itself will be possible via Rainer's concrete biography. Especially in the context of recent research on colonialism and racism in modern architecture, the question of the inherent biopolitics of garden city models can become substantial with the analysis of Rainer's work. To this end, the "articulated and loosened city" as described by Rainer will be sketched for the first time and compared with other urban planning models. In addition, the complete estate will be reviewed and evaluated, and further material on Rainer will be excavated and analysed in archives in Germany, Poland and the Czech Republic. In this way, Rainer's work is placed in a differentiated and well-founded context.
Prof. Dr. Angelika Schnell, Akademie der bildenden Künste Wien (Principal Investigator)
Dr. Ingrid Holzschuh, Dipl.-Ing. Waltraud P. Indrist, Akademie der bildenden Künste Wien (Postdoc Associates)
Mag. Susanne Rick, (Praedoc Associate)
Dr. Monika Platzer, Architekturzentrum Wien, (National Research Partner)
Transnational School Construction
The Architekturzentrum Wien is cooperation partner of the FWF research project Transnational School Construction (Grant Number P 33248).
Since 2020
The research project investigates transnational knowledge exchange in the field of school construction between Austria, Slovenia and the GDR after 1945. In the period after World War II, a profound change in the school system is emerging. This later so-called "awakening to the educational society" was accompanied by a new conception of school buildings. Instead of large, self-contained, multi-story school buildings, low, pavilion-like school buildings were erected amid green spaces.
In 1951, the School Building Commission was established within the Union Internationale des Architectes (UIA), which focused on the international exchange on design and technical solutions for school buildings. Through comparative studies in the global North and South, overarching principles for school construction and design were established and communicated by the Commission's delegates in their respective national contexts. The research project examines the functioning of the UIA School Construction Commission to gain insights into the collaboratively organized production of school space. Focusing on the three UIA member states Austria, the German Democratic Republic, and Slovenia (part of Yugoslavia in the post-war period), the main construction methods and the processes of standardization and norming as well as the central actors in the respective countries and their exchange among each other are analyzed.
Dr. Maja Lorbek, University of Applied Arts Vienna (Project Leader)
Dr. Oliver Sukrow, TU Wien (National Research Partner)
Dr. Monika Platzer, Architekturzentrum Wien (Institutional Partner)
Mag. Susanne Rick, Architekturzentrum Wien (Researcher)
Project partner
Architekturzentrum Wien (Az W)
Leibniz Institute for the History and Culture of Eastern Europe (GWZO)
University Kassel – Architecture Urban Planning Landscape Planning
University of Ljubljana – Faculty of Architecture
Communities of Tacit Knowledge: Architecture and its Ways of Knowing
'TACK / Communities of Tacit Knowledge: Architecture and its Ways of Knowing' is a newly funded Innovative Training Network, as part of the Marie Sklodowska-Curie Actions within the European Framework Program Horizon 2020. It trains young researchers in understanding the specific knowledge that architects use when designing buildings and cities. TACK gathers ten major academic institutions, three leading cultural architectural institutions as well as nine distinguished architecture design offices. Collaboratively these partners offer an innovative PhD training program on the nature of tacit knowledge in architecture, resulting in ten parallel PhD projects.
Design projects commonly emerge from collaborations between designers, makers (builders, crafts(wo)men etc.), clients and a variety of experts, including social scientists, commercial, economic or technical advisors, critics and heritage consultants. This extended design team is thus composed of individuals with various backgrounds, different professional assumptions and varying perspectives of expertise. Architecture operates at the intersection of knowledge domains (arts, humanities, social sciences, applied technology) and has the capacity to create new solutions and perspectives based on its inherently synergetic knowledge production. So, architectural designs are the result of complex and occasionally conflicting sets of requirements that can only be reconciled through processes of negotiation between different disciplines and different fields of knowledge. These negotiations imply forms of synergetic thinking, which often rely on implicit common understandings, or tacit knowledge.
Tacit knowledge may be embedded in the relations between people, and is specific to particular historical developments and traditions. Tacit knowledge often results from the personal experience of making and thinking and therefore connects intellectual and practical work. It produces knowledge that is embedded in a community. As tacit knowledge is an essential element of the heuristic methods of knowledge production in the field of design it also contains a significant potential of absorbing and responding to change. Tacit knowledge offers designers highly relevant instruments for dealing with constantly fluctuating conditions and a set of complex and apparently contradictory requirements.
Further information: TACK
Academic partners:
ETH Zürich, Delft University of Technology, KTH Royal Institute of Technology, Oslo School of Architecture and Design, Bergische Universität Wuppertal, Politecnico di Milano, Academy of Fine Arts Vienna, University of Antwerp, University College London, Leibniz Universität Hannover
Non-Academic Partners:
Architekturzentrum Wien, Het Nieuwe Instituut, Flanders Architecture Insitute, architecten de vylder vinck taillieu, Korteknie Stuhlmacher Architecten, Spridd, De Smet Vermeulen architecten, Cityfoerster, One Fine Day architects, SOMA Architecture, Onsite studio, Snøhetta
Reframing Postwar Architecture in Austria — West Germany — Switzerland, 1945–1968
Since 2019: Research
The aim of this international research project is to undertake an interdisciplinary recontextualisation of the narrative of the postwar architectural history in the three countries with regard to the global issues of the time.
In Austria and Germany the architecture of the postwar years was encountered with scepticism in many places. This position of rejection is not only founded in the moral implications of the politics of the era of rebuilding, but also in a modernity misunderstood as technology led mass production. There was a close relationship to Switzerland due to the geographic proximity, the shared language, the residency of Austrian and German groups of resistance during the war years and the long years of connection between international interest groups like the Werkbund and the CIAM (Congrès Internationaux d'Architecture Moderne), onto which could have been built directly after 1945. The Swiss colleagues as well as their specialist media created a door to the rest of the world for the two neighbouring countries. At the same time, the three countries shared that they were searching for a new cultural/political identity that led to a national reorientation under the direction of the Allies. The 'perpetrator nation' Germany sought a radical break with its Nazi past, Austria's claim to 'victim status' was to soften the political and economic consequences of the war and 'neutral' Switzerland was making efforts to emerge from its isolated situation.
Project partners:
Architekturzentrum Wien (Az W), Monika Platzer
Südwestdeutsches Archiv für Architektur und Ingenieurbau (saai), Karlsruhe Institute of Technology (KIT), Georg Vrachliotis
Institute for the History and Theory of Architecture (GTA), ETH Zurich, Bruno Maurer
Chair of History of Architecture and Curatorial Practice, Architecture Museum of the Technical University of Munich, Regine Hess
From 24 to 26.1.2020, an international symposium was held at the Az W, under the title Cold Transfer. Architecture, Politics, Culture. Germany — Austria — Switzerland after 1945, to look at and compare practise in the building sector and the socio-political conditions in the three countries. The symposium was a cooperation by the Az W with the Austrian Marshall Plan Foundation.
Architekturführer Niederösterreich (architecture guidebook of Lower Austria )
Since 2018: study and appraisal of the Lower Austrian index cards by Friedrich Achleitner, and their supplementation to compile an extensive architecture guide of Lower Austria.
A cooperation between the Architekturzentrum Wien and Vienna University of Technology
Over 40 years ago Friedrich Achleitner began his ambitious project to make a compilation of Austrian architecture in the 20th century, which was intended to be published in four volumes. He covered thousands of kilometres in its making, took thousands of photographs and wrote his own characteristic texts. His innumerable trips to the original locations have ultimately led to the several volumes of his famous Architekturführer, only the largest federal province of Austria remained unfinished, Lower Austria.
On the initiative of the former Director of the Az W Dietmar Steiner, in 2018 a research project was launched with the goal of publishing an architecture guide to Lower Austria. The book, although inspired by the volumes already in print, was not intended to copy them as neither Achleitner's working approach nor his writing style should be subjected to imitation with a third visit to the objects concerned.
From January to September 2019, in an intense collaboration with students of Vienna University of Technology, Dietmar Steiner and Margarete Cufer, the 3,758 hand-written index card entries by Friedrich Achleitner, Dietmar Steiner, Margarethe Cufer and Margarethe Heuberger-Sentobe were completely digitised and transferred to the Az W digital database. The 875 strips of negatives with 5,250 individual black and white images of the objects documented by Achleitner have now also been digitised, identified and added to the index card entries.
At the same time, a digital database with the 764 objects from the ORTE Architekturnetzwerk NÖ and the Führer St. Pölten guides to the relevant architectural landscape has been recently updated and extended by Otto Kapfinger. Subsequent steps are also already making progress: the first short films on the key participants in the planning processes, such as Franz Fehringer and Norbert Steiner, are in production.
Az W project team: Ingrid Holzschuh, Monika Platzer
The project is supported by: FORUM MORGEN.
Hans Hollein (1934–2014)
Since 2016: Processing the Estate
"For sixty years Hans Hollein has been the most influential and internationally significant architect from Austria. No other Austrian architect has contributed to a similar extent to the international debate and the development of architecture." (Dietmar Steiner, former Director Architekturzentrum Wien)
Project team: Barbara Kapsammer, Monika Platzer, Katrin Stingl
In 2016 the Republic of Austria acquired the Hans Hollein Archive, the most important and comprehensive estate relating to the history of Austrian architecture in the 20th century. This archive was taken over by the MAK – Museum für angewandte Kunst –and transferred to the Architekturzentrum Wien in the form of a permanent loan. This transfer set up a form of cooperation, unique between cultural institutions in Austria, the "Archive Hans Hollein, Az W and MAK, Vienna". At present the estate, which amount to 300 pallets, is being sorted and inventoried according to museum standards.
Diploma Theses, Master Degree Theses, Doctoral Theses, Studies
Merken