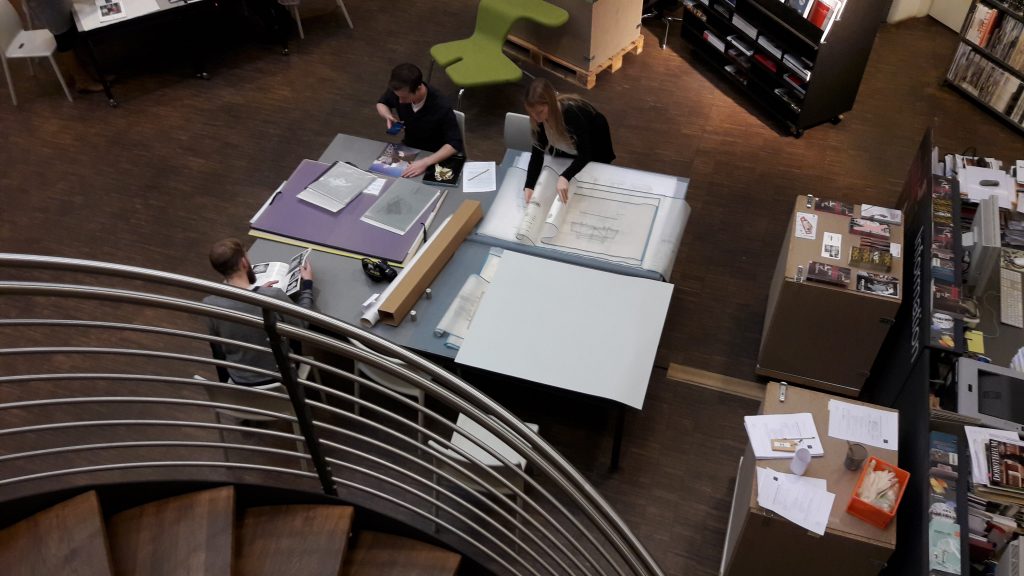 Hans Hollein (1934–2014)
Since 2016: Processing the Estate
"For sixty years Hans Hollein has been the most influential and internationally significant architect from Austria. No other Austrian architect has contributed to a similar extent to the international debate and the development of architecture." (Dietmar Steiner, former Director Architekturzentrum Wien)
Project team: Mechthild Ebert, Monika Platzer, Katrin Stingl
In 2016 the Republic of Austria acquired the Hans Hollein Archive, the most important and comprehensive estate relating to the history of Austrian architecture in the 20th century. This archive was taken over by the MAK – Museum für angewandte Kunst –and transferred to the Architekturzentrum Wien in the form of a permanent loan. This transfer set up a form of cooperation, unique between cultural institutions in Austria, the "Archive Hans Hollein, Az W and MAK, Vienna". At present the estate, which amount to 300 pallets, is being sorted and inventoried according to museum standards.
Roland Rainer and his Biographical Entanglements from 1935 to 1945
Since 2016
Roland Rainer (1910–2004) is numbered among the most important architects of postwar modernism. In 2015 his architectural estate was transferred to the Architekturzentrum Wien.
Project team: Ingrid Holzschuh, Waltraud Indrist, Monika Platzer
In cooperation with the Academy of Fine Arts, where Roland Rainer worked for many years, questions about Rainer's role during the National Socialist period that have never been clarified led in 2016/2017 to a study of historical sources in German, Austrian and Polish archives that relate to his biography. In addition preparations are being made for a research project on Rainer's architectural œuvre.
Günther Domenig (1934–2012)
Since 2016: Processing the Estate
Günther Domenig was one of the protagonists of the Graz architecture scene, which caused a furore internationally known under the name of "Grazer Schule".
Project team: Monika Kus (2016), Christoph Freyer (2017), Katrin Stingl (seit 2016)
The extensive holdings were transferred in 2014 from the office Domenig & Wallner ZT, the last place where Günther Domenig worked, to the Az W and are at present being categorised scientifically. From 1964 to 1975 Domenig worked with Eilfried Huth (*1930), whose architectural archive is also in the Az W. This makes it possible to bring together all the projects by the office partnership Domenig Huth and to document them completely. Today their buildings and above all their visionary competition entries are considered master works in the history of Austrian architecture. For the mega-structure project spanning over the town of Ragnitz, which was shown in 1966 in the context of the exhibition "Urban Fiction", they were awarded the Grand Prix d'Urbanisme et d'Architecture in Cannes in 1969, which laid the foundation for their international career.
Diploma Theses, Master Degree Theses, Doctoral Theses, Studies
Merken