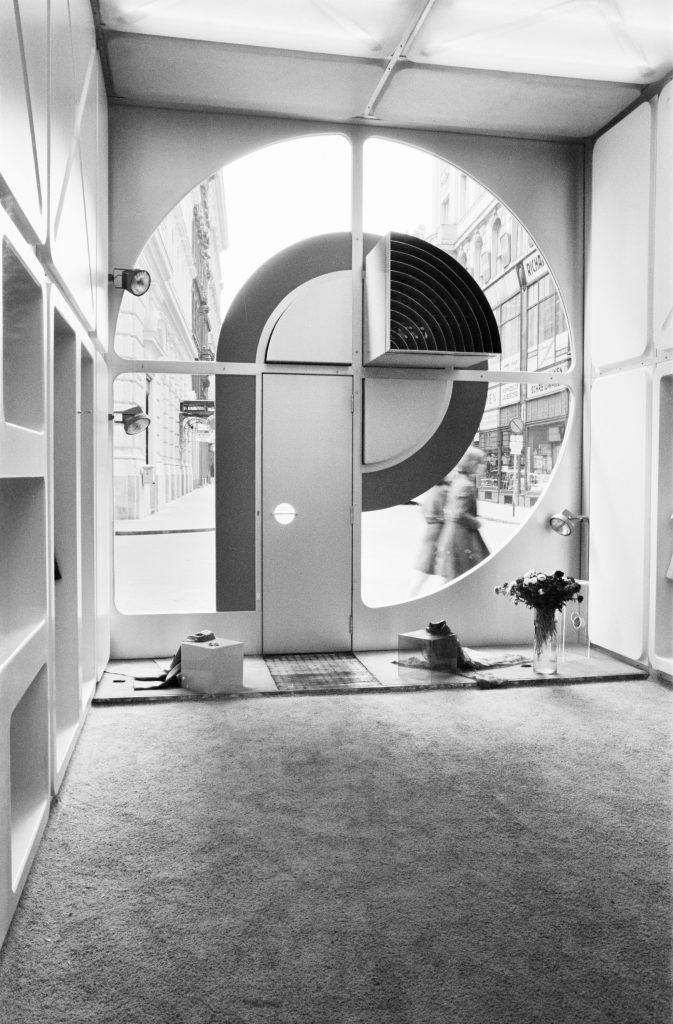 When only 32, in 1966 Hans Hollein was commissioned by Christa and Caspar Ludwig Metek to plan a fashion boutique in Vienna's inner city. Completed a year later, the intervention still stands out in the city's today.
In 1966 Hans Hollein (1934-2014) had already been awarded the prestigious Reynolds Prize for his first completed building, the Retti candle shop. Like Retti, the CM fashion boutique at 3 Tegetthoffstrasse is also a conversion of the historical substance in the 1st District of Vienna.
The striking shop can even be seen from a distance with its segmented, incomplete circle that transitions into the lettering, and found again in the logo. The flat entrance of anodised aluminium, tinted glass and orange plastic represents just a thin separating layer between the outside world and the only 19.5 square metre showroom. As it does for Retti, it absorbs the air conditioning and ventilation units. The lettering for "Christa Metek" was realised in green Perspex. Inside, moveable lights in the corners of the portal run on rails.
A modular system of fibreglass-strengthened polyester elements in two different sizes (1.86m x 1.86m and 1.86m x 2.10m) determines shop's geometric arrangement. These surround the space, adopting functions like changing cubicle, mirror, shelf, hanging compartments or storage, whereby the wall elements are sealed with hard white lacquer and the ceiling elements are translucent. Originally the flooring was sand coloured pile carpet, the cabin curtains yellow and their cladding as well as the table, orange. In the yellow window display, which is separated by a step, fabrics and items of clothing used to be draped over colourful Perspex furniture. Today the boutique houses a vintage clothing store.