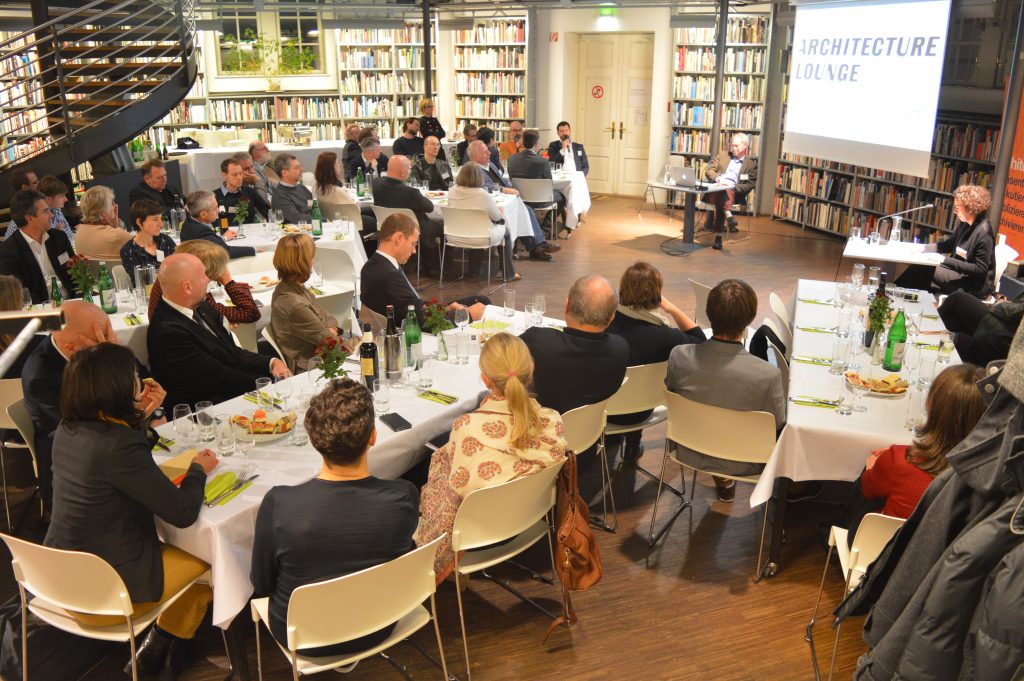 The member conferences in the Az W are reserved exclusively for members of the Architecture Lounge and for selected experts from the areas of politics, architecture and business. In the atmosphere of a workshop this free exchange of ideas provides a platform that is strongly oriented on the idea of networking.
The member conferences are a particularly exclusive format, the themes are suggested by members of the Architecture Lounge, but are developed and programmed by the Architekturzentrum Wien, which has complete autonomy in terms of content.
Previous Member Conferences
38th Member Conference: Productive City (01.06.2023)
Integrate instead of displacing! "The manufacturing sector is an indispensable basis of life for Vienna's population and must be kept available in the long term … Instead of monofunctional business and residential areas, new mixed forms of working and living should ensure sustainable urban development", is the wording of the technical concept for the "Productive City" (STEP 2025). Building on the experience of recent years, work is currently underway on an adaptation for the new urban development plan. Working and living in the same house and neighbourhood should (again) become easier in the sense of the city of short distances. We want to discuss how this can be achieved together with local and international experts at our next small conference.
Statements: Markus Schäfer, Hosoya Schaefer Architects; Clemens Horak, MA 18, Stadtentwicklung und Stadtplanung; Lina Streeruwitz, StudioVlayStreeruwitz; Peter Rippl, Die HausWirtschaft; Andrea Faast, Wirtschaftskammer Wien
Round Table Discussion with the above as well as Andreas Reittinger, ÖVW;  Hannes Stangl, Sozialbau; Karin Kieslinger, EGW;  Ruth Jedliczka, Mischek;  Christopher Beigl, Arwag;  Siegfried Igler, Neues Leben; Klaus Wolfinger
Moderation: Angelika Fitz
37th Member Conference Circular Economy – Resource Conservation and Sustainability in the Construction Industry (

14.11.2022)
The city as a warehouse of materials, circular economy, conservation of resources and the environment – the vision for 2050 sees Vienna as a virtually waste-free city. From that point on, 80 percent of the components and materials from demolition buildings and major conversions must be reused or recycled. There is a growing awareness of the finite nature of materials and energy, but we need to get into action! This is what we want to promote together with local and international experts at our next small conference.
Statements: Bernhard Jarolim, Vienna City Planning Director; Christoph Müller, Baubüro in situ; Silja Tillner, Tillner & Willinger ZT GmbH; Dirk Hebel, KIT Karlsruhe, Campus Süd, Professorship Sustainable Construction
Round Table Discussion with the above as well as Carl Thümecke, Vasko+Partner; Attila Gülnaz, Wienerberger; Michael Pech/ÖSW; Andreas Pfeiler, WKÖ Steine & Keramik; Hannes Stangl, Sozialbau.
Moderation: Angelika Fitz, Az W
36th Member Conference "Liberated Housing" (04.07.2022)
Vienna is "world champion in housing". So say international ratings and not only affordability but the whole living environment plays a crucial role. Everyone should have access to good housing, affordable renewable energy and pleasant open spaces. The pandemic has acted like a burning glass in this regard. Problems and fault lines that were there before are becoming more visible. Who can work in a home office and who can't, and who even has enough space? Who has their own open space or at least a green oasis close to their home? Can we create living qualities in the urban context that resemble those of a single-family home? What strategies does forward-looking planning use to meet these challenges? This is what we discussed at the 36th member conference in the context of the Architecture Lounge together with City Councillor for Housing Kathrin Gaál as well as local and international experts.
Statements: Kathrin Gaál, City Councillor for Housing, Urban Renewal and Women's Issues; Kurt Hofstetter, IBA_Wien International Building Exhibition Vienna 2022 – New Social Housing; Georg Poduschka, PPAG architects; Marie Glaser, Federal Department of Economic Affairs, Education and Research, Federal Office of Housing/Fundamentals Housing and Real Estate
Round Table Discussion with the above as well as Peter Foschi, BWM Architektur & Design; Michael Gehbauer, WBV-GBA; Oliver Gerner; Andreas Holler, BUWOG; Stephan Jainöcker, Mischek; Gregor Puscher, wohnfonds_wien
Moderation: Angelika Fitz, Az W
35th Member Conference "Energy Transition and Building (12.10.2021)
The energy transition is an essential building block in the fight against the climate crisis. By 2030, Austria will generate 100% green electricity. The Renewable Energy Expansion Act paves the way for this. Building construction is one of the main levers for decarbonising the heating and increasingly also the cooling supply, both in terms of buildings and across buildings. Together we discussed these topics at the 35th member conference using best practice examples.
Statements: Stephan Renner, Cabinet Federal Ministry for Climate Protection, Environment, Energy, Mobility, Innovation and Technology; Anne Catherine Fleith, feld72; Stefan Eisinger, Kallco; Norbert Thaler, Thaler Thaler Architekten; Siegfried Igler, Neues Leben; Wolfgang Gleissner, Bundesimmobiliengesellschaft; Peter Holzer, Institute of Building Research & Innovation
Round Table Discussion with the above as well as Ernst Bach, Sozialbau; Michael Gehbauer, WBV-GPA; Karin Kieslinger, EGW; Klaus Wolfinger, ÖVI
Moderation: Angelika Fitz, Az W
34th Member Conference with the new City Councilor for Planning Ulli Sima (05.07.2021)
She wants to green and unseal – so Ulli Sima in one of her first interviews as the new city councilor for innovation, urban planning and mobility. The declared goal of the new city government is to develop Vienna into a climate model city and to become climate neutral by 2040. A reorientation of urban planning toward more green space is intended to create lively Grätzl. At the same time, the demand for affordable building land in the growing city continues to rise, as does the need for a voice. What strategies does forward-looking planning use to meet these challenges? On the occasion of the 34th member conference in the context of the Architecture Lounge, Ulli Sima outlined her plans and concrete intentions for the next five years. The subsequent discussion offered the opportunity to exchange experiences.
33rd Member Conference: Building Information Modeling (05.10.2020)
"BIM has been judged by architects either as salvation, downfall, practical tool or 'brauch ma ned'. In the 2020s, we will know who is right," wrote Maik Novotny in his decade review at the end of 2019. At the 33rd Member Conference, we explored the question of how architecture and the construction industry are changing as a result of BIM, where the strengths and weaknesses lie, and how BIM can be used to reorganize not only the planning, construction, and operation, but also the dismantling and material cycle of a project. Will the networked workshop become reality?
Statements: Pichler Traupmann, Pichler & Traupmann Architekten, Christoph Eichler, ODE; Hannes Stangl, Sozialbau; Gerfried Falb, iC consulenten; Martin Röck, KU Leuven & TU Graz.
Round Table Discussion with the above as well as Christian Marintschnig and Matthias Nödl, Vasko+Partner, Markus Engerth and Georg Weidinger, Strabag AG; Steffen Robbi, Digital Findet Stadt GmbH
Moderation by Angelika Fitz, Az W
32nd Member Conference: The People's House of the 21st Century (09.12.2019)
Integration of new cultural and educational institutions in urban development. Quickly needed are apartments in the growing city, we wish for lively city quarters. Much has happened in Vienna in recent years to activate the ground floor zones with trade and commerce. But where is the culture in the large urban expansion areas? Where are the meeting places? Which institutions could they be? What would a "people's house of the 21st century" look like that combines culture, education and social affairs? Which hybrid buildings and sponsorships would be conceivable? Where are the greatest challenges, be it planning, legal or financial? What role can housing and school developers play? We discussed this together with local and international experts* at our next small conference.
Statements: Alexandre Theriot, Bruther Architects; Walter Rohn, Austrian Academy of Sciences; Veronica Kaup-Hasler, City Councillor for Culture and Science
Round Table Discussion with the above mentioned as well as Thomas Madreiter, Stadtbaudirektion; Gregor Puscher, wohnfonds_wien; Gerhard Schuster, Vienna 3420 Aspern Development; Amila Širbegović, IBA Vienna; Much Untertrifaller, architect; Sne Veselinović, architect; Bernd Wiltschek, Bundesimmobiliengesellschaft
Moderation by Angelika Fitz, Az W
31st Member Conference: Urban Heat (13.06.2019)
In densely built-up areas, sealed surfaces, facades and roofs create heat islands – "Urban Heat Islands". The phenomenon has been known for some time, but climate change is increasing it even further. Asked in one of her first interviews about the big idea for Vienna, Birgit Hebein, the designated deputy mayor, said that "preparing for next summer is important to her. … We need more greenery, more shade, …". What measures can we take to counter the urban heat? What control and planning instruments are there for climate-sensitive urban development? What are the biggest challenges, be they planning, social, legal or financial? We discussed this with local and international experts.
Statements: Kamiel Klaasse, NL Architcts; Susanne Formanek, GRÜNSTATTGRAU; Simon Tschannett, Weatherpark GmbH Meteorological Research and Services
Round Table Discussion with the above-mentioned as well as Stefan Eisinger, Kallco; Michael Gehbauer, WBV – GPA; Christian Härtel, Vienna Environmental Protection Department – MA 22; Rüdiger Lainer, Rüdiger Lainer & Partner Architekten; Andreas Pfeiler, FB Steine-Keramik; Christof Pohn, Eternit; Bernhard Sommer, University of Applied Arts Vienna / Energy Design; Heinz Hackl, Velux
Moderation by Angelika Fitz, Az W
30th Member Conference: Dedensification in Existing Contexts 
(27.11.2018)
Cities grow, land doesn't. What potential does existing land offer as a three-dimensional building site?  Could tens of thousands of new apartments really be built by redensification? And what role do Gründerzeit neighborhoods, post-war modernism and community housing stock, but also the development of car parks, supermarkets and other infrastructures, play here? How can densification lead to new qualities in the neighbourhood? How can this be realised in a socially compatible way with the existing neighbours and where are the greatest challenges, be they planning, legal, financial or social? We discussed this on the basis of local and international best practice examples.
Statements: Florian Nagler Architects, Much Untertrifaller, Dietrich Untertrifaller Architects, Thomas Ritt, Vienna Chamber of Labour, Bernhard Steger, MA 21
Round Table Discussion with the above mentioned as well as Karin Ramser/Wiener Wohnen, Irene Prieler/grundstein Architekten, Ernst Gruber/wohnbund:consult, Michael Walter/VELUX Austria, Horst Irsiegler/ WAG, Josef Ostermayer/ Sozialbau AG, Gregor Puscher/ wohnfonds_wien
Moderated  by Angelika Fitz, Az W
29th Member Conference: Land Policy in the Growing City (12.04.2018)
Hanno Rauterberg wrote in 'Die Zeit' on 11.01.2018 that "in fact, the housing crisis is a land crisis. Land prices are rising so high that up to 70% of the budget for a new building goes on the site alone." So, does this call for a change in land policy? What are the models for land mobilisation? And, where does a line of thinking that challenges the commodity character of land lead? The 29th Mini Conference, hosted by the Architecture Lounge, is dedicated to the topic from different perspectives.
Statements: Rolf Novy-Huy, Stiftung Trias, Daniel Riedl, BUWOG Group, Christoph Chorherr, Grüner Klub im Rathaus
Round Table Discussion with the above-mentioned are Josef Ostermayer/Sozialbau AG, Karl Wurm/Neue Heimat, Stephan Jainöcker/Mischek, Sandro Forst/Deputer Office Manager in the office of Executive City Councillor Ludwig, Michael Hecht/Fellner Wratzfeld Partner attorneys at law
Moderated by Hannes Swoboda, President of the Az W
28th Member Conference: Perspectives for Residential Construction in Vienna (05.12.2017)
The IBA_Vienna New Social Housing is the first international building exhibition to place the focus on the future of social housing construction. What are the concrete guidelines for this IBA? And can it actually open up new perspectives for residential construction in Vienna? Alongside an introduction into the IBA proposals and its criteria, the evening's discussion includes two highly topical proposals for developing procedure in the subsidised housing sector.
Welcome address by Barbara Novak, Member of Parliament for Vienna and City councillor, on behalf of Michael Ludwig, Executive City Councillor for Housing, Housing Construction and Urban Renewal
Guest speakers: Wolfgang Förster, Coordinator at IBA_Wien, International Building Exhibition Vienna 2020–2022; Rudolf Scheuvens, Professor of Spatial Planning and Urban Development at Vienna University of Technology; Christoph Mörkl, SUPERBLOCK
Round Table Discussion with the above, as well as with Markus Kaplan, Silja Tillner, Helga Fassbinder, Heinrich Kugler, Johann Gruber
Moderated  by Angelika Fitz, Az W
27th Member Conference: Buildings as Raw Material Banks (03.04.2017)
The earth's supply of natural resources is finite; the theme of shortage of raw materials is increasingly a focus of attention. One solution is to understand buildings as raw material banks and, in erecting buildings, to think about how they can be reprocessed, reused and recycled in the future. According to experts, in the area of commercial real estate considering lifecycle costs is already common practice, but in housing this is still often neglected. Particularly in the area of social housing minimisation of investment costs has top priority. But this does not go far enough. The goal should be to arrive at lower operating costs by optimising the lifecycle costs.
Guest speaker: Renaud Haerlingen, Rotor, Brüssel
Round Table Discussion with: Ulrich Kral, TU Wien, Institut für Wassergüte, Ressourcenmanagement und Abfallwirtschaft; Reinhard Mechtler, Fritsch, Chiari & Partner Ziviltechniker GmbH; Markus Meissner, pulswerk GmbH; Thomas Romm, forschen planen bauen ZT
Moderated by Angelika Fitz, Az W
26th Member Conference: The ÖBB as an Urban Developer (01.12.2016)
The ÖBB makes homes mobile. A further 25,000 homes are to be completed within 10 years on former ÖBB grounds in Vienna. The Nordbahnhof grounds is the largest of the sites scheduled for redevelopment, alongside which are also the Nordwestbahnhof grounds, the Hauptbahnhof grounds, or smaller sites like the Felberstrasse area or Florasdorf. In his lecture Herbert Logar of ÖBB-Immobilienmanagement GmbH presented future urban development milestones courtesy of the ÖBB.
Guest speaker: Herbert Logar, ÖBB-Immobilienmanagement GmbH
Round Table Discussion with: Thomas Madreiter, Director of Planning, Head of Gruppe Planung; Gregor Puscher, Deputy Head of Department, MA 21, Head of Planungsgruppe West; Winfried Kallinger, Kallco; Michael Pech, ÖSW; Andreas Reittinger, ÖVW.
Moderated by Angelika Fitz, Az W
25th Member Conference: "LIBERATING" Housing (31.03.2016)
The 25th Architecture Lounge member conference is dedicated to the topic of 'LIBERATING housing', with a full evening devoted to the topic of increasing housing by increasing cost-efficiency. "Construction costs have trippled in the last five years to meet building regulations and standards in the (housing) sector, placing increased pressure on affordable homes" (Plattform Wohnungsbau).
Why are costs rising?
Guest speakers: Kurt Puchinger, Chairman of the Grundstücksbeirates; Karl Wurm, Chairman of GBV, and co-initiator of Plattform Wohnungsbau; Peter Lorenz, LORENZATELIERS: Architecture, Costs in Subsidised Housing in Vienna. Followed by a round table discussion, with Peter Lorenz; Kurt Puchinger; Ernst Schlossnickel, MD-BD — Gruppe Behördliche Verfahren und Vergabe; Werner Schuster, MD-BD — Gruppe Hochbau; Karl Wurm.
Moderated by Dietmar Steiner, Az W
24th Member Conference: Living in a High-Rise (03.12.2015)
Living in a high-rise is becoming a new trend, as can be seen in many European cities. In Vienna, too, there is now a whole row of investors whose new housing projects are growing into the sky. "In the face of large influx coupled with a scarcity of land in the metropolises, there's nowhere to go but up", say market analysts. What are the pros and cons of living in a high-rise, who are the target groups, and what is the contribution that high-rises can make to the increasing demand for homes? The 24th Member Conference by the ARCHITECTURE LOUNGE is dedicated to the topic from very different perspectives: Gerd Erhartt, querkraft architekten; Christoph Reinprecht, Institut für Soziologie; Michael Pech, Österreichische Siedlungswerk AG; Andreas Holler, BUWOG Group.
Moderated by Dietmar Steiner, Az W
23rd Member Conference: Building with Wood (24.06.2015)
Until a few years ago multi-storey wooden buildings were still subject to additional building restrictions. These restrictions were primarily based on fire safety requirements for new buildings. The research project 8+ by Schluder Architektur set a precedent by proving that it is possible to complete a building of up to twenty storeys with all supporting elements made exclusively of wood while meeting all safety requirements, so removing the "mental block (and the red tape) associated with working with timber".
Now, an 84 metre tall, 24 storey high-rise is to be completed in Vienna that has changed thinking on the subject of wood-hybrid construction for large-volume buildings.
The 23rd Architecture Lounge Member Conference presented: Michael Schluder, Schluder; Andrea Bernasconi, Milan; Oliver Sterl, Rüdiger Lainer & Partner Architekten.
Moderated by Dietmar Steiner, Az W
22nd Member Conference: A focus on smart cities (24.11.2014)
This summer the council of the City of Vienna officially adopted the Step 2025 urban development plan and the Smart City Strategy. Both documents focus on sustainability and the conservation of resources in urban development. This sounds good on paper. But what does this mean in practical terms? How can smart ideas be implemented? Does a Smart City need stupid buildings? How smart is the Slow City? And, what are the strategies employed in the smart city Amsterdam?
Guest speakers: Ina Homeier, Smart City Wien Initiative; Frans-Anton Vermast, Strategy Advisor Low Carbon & Connected Urban Policies; Michael Gehbauer; Manfred Pagler.
Moderated by Dominic Weiss, tina vienna / Smart City Agentur
21st Member Conference: And then it was light. Architecture without services? (13.05.2014)
Technological progress, ever scarcer resources and increasing energy-awareness are playing an increasing role in matters of design. Architecture must take greater care than has been the case of users' health and wellbeing, among other factors because we spend the majority of our everyday lives in buildings without natural light. Questions concerning visual optimisation, maximum energy efficiency and the reduction of CO2 emissions, as well as the most recent developments in health-promoting concepts for spaces and buildings were on the agenda for discussion at the 21st Member Conference.
Guest speakers: Dietmar Eberle, Baumschlager Eberle; Johann Scheuringer, Josko Fenster und Türen; Gregor Radinger, Zentrum für Lichtplanung, Lichtlabor Krems; Christine Horner, SOLID architecture.
Moderated by Dietmar Steiner, Az W
20th Member Conference: Building in Vienna (12.11.2013)
The Architecture Lounge's 20th Member Conference was held as future.lab, as part of the series of events 'WIEN 2025 meine zukunft' (VIENNA 2025 my future) to establish guidelines for the renewal of the Vienna urban development plan for 2025 (STEP 2025). Viennese politicians want "wild, courageous architecture". The architects are open to this demand. Why do "courageous" projects often fail? Why do great plans often drift into mediocrity? Does the diversity of measures and requirements governing construction, above all of housing, force the architecture into the background? Can architecture in Vienna achieve a certain measure of freedom and design leeway (once again)? The event Bauen in Wien (Building in Vienna) took a critical view of the dependence of architecture on the authorities and, in part, contradictory regulations, and placed these in a context of other European cities.
Brief talks: Brigitte Jilka, managing director of the Executive Office for Urban Planning of Vienna; Sergison Bates Architects, London; Roman Delugan, Delugan Meissl Architekten, Vienna; Johannes Kaufmann, Riepl, Kaufmann, Bammer Architektur; Michael Ludwig, Executive City Councillor for Housing, Housing Construction and Urban Renewal
Moderated by Dietmar Steiner, Az W
19th Member Conference: Urban planning in the Context of Europe (03.06.2013)
The 19th Architecture Lounge member conference was held as a part of the series of events 'WIEN 2025 deine zukunft' (Vienna 2025 your future) on the programmatic renewal of the Vienna Urban Development Plan 2025 (STEP 2025).
In some European cities there is a municipal architect who takes precedence over the local planning authorities. These municipal architects usually have a background in architecture. There is no such comparable position in Vienna. So we invited European municipal architects, or their representatives, to Vienna in order to compare their remits and responsibilities in their various functions, and to find out how urban planning functions in other cities. What role does architecture have to play in urban planning and development?
Brief talks: Thomas Madreiter, director of municipal planning, Vienna; Johannes Kaiser-Wortmann, Wortmann Architects, Barcelona; Tina Saaby, municipal architect, Copenhagen; Pascal Hunkeler, member of the executive board for the Zurich municipal planning department, Zurich;  Maria Vassilakou, Executive City Councillor for Urban Planning, Traffic & Transport, Climate Protection and Public Participation
Moderated by Dietmar Steiner, Az W
18th Member Conference: New working worlds. Resource-conserving and flexible (19.11.2012)
From innovative façade systems to new trend-setting office concepts — the office buildings of today have to meet ever rising demands. Alongside commercial viability, the wellbeing of the workers, the positive impact on communication as well as resource-conserving and low-CO2 construction methods and organisational flexibility are key. The 18th Mini Conference for the Architecture Lounge is dedicated to this topic from the most varied of perspectives.
Guest speakers: Dieter Hayde, Atelier Hayde Architekten; Marta Schreieck, henke und schreieck Architekten; Ernst Morgenbesser, UNIQA Real Estate Management; Fritz Hrusa
Moderated by Dietmar Steiner, Az W
17th Member Conference: Sites Mobilization for Housing (03.07.2012)
By 2030 the population of Vienna is expected to reach the two million mark. Even today the demand for housing exceeds supply. Sites for housing development have increased in price many-fold over the past few years as such sites are often being hoarded. In 1970 the cost of a site was only twelve percent of the overall cost of a building project, now this figure is thirty percent. According to experts, this has the potential to lead to a detrimental development in the subsidised housing sector. Because there is hardly any affordable land available for social housing developments in the conurbations, investors are moving to locations where sufficient low cost building land is still available. What can the Widmungsabgabe levy (reallocation levy), applicable since 1 April, change? Will this tax lead to a further increase in the price of housing, or does it contribute to covering the cost of infrastructure while freeing-up sites for development without, as some maintain, impacting on the price of housing? Or, will it become a tax on earnings in the absence of zoning? And, should a land tax be levied? The 17th Architecture Lounge Member Conference was dedicated to a round table discussion of this topical issue.
Round table participants: Walter Blachfellner, Salzburger Landesregierung, Wohnbauförderung und Raumordnung; Heinz Fassmann, Institut für Geografie und Regionalforschung der Universität Wien; Dieter Groschopf, wohnfonds_wien, fonds für wohnbau und stadterneuerung; Josef Schmidinger, s Bausparkasse; Gerhard Schuster, Buwog; Karl Wurm, Österreichischer Verband gemeinnütziger Bauvereinigungen.
Moderated by Dietmar Steiner, Az W
16th Member Conference: City on the Water — Urban Development Potential (02.11.2011)
Over the last two years Wiener Hafen has developed visionary projects on 'Vienna on the Danube'. For over ten years Christoph Chorherr of Die Grünen Wien (The Greens, Vienna) has been pursuing the idea not of developing Vienna alongside the Danube but rather of Vienna on the Danube. The 16th Member Conference as part of the Architecture Lounge was accordingly dedicated to the subject of 'City on the Water — Urban Development Potential' and two positions had been invited to talk, from Hamburg and from Basel.
Jürgen Bruns-Berentelg, chairman of the Executive Board of HafenCity Hamburg; Thomas Waltert, Basel Nord Area Management, City of Basel planning office; Rudolf Mutz, CEO of Wiener Hafen Managementollowed by a discussion with: Kurt Puchinger, MD, GB Bauten und Technik, Stadtbaudirektion; Christoph Chorherr, Die Grünen Wien; Jürg Degen, City of Basel planning office; Jürgen Bruns-Berentelg; Thomas Waltert; Rudolf Mutz.
Moderated by Dietmar Steiner, Az W
15th Member Conference: Quality Assurance in the urban development and traffic sector (04.07.2011)
"I want a city where many people enjoy living …a city that embraces new trends, such as gentle mobility or City Farming, and that even sets trends itself". These are the words of Maria Vassilakou, Executive City Councillor of Vienna for Urban Planning, Traffic & Transport, Climate Protection, Energy and Public Participation. Vienna is growing in the direction of a metropolis of 2 million — the subsequent challenges and planning strategies demand far-sighted planning and quality assurance in the urban development and traffic sector. For the 15th Architecture Lounge Member Conference Maria Vassilakou outlines her plans and concrete proposals for the next five years. The discussion that follows provides an opportunity to exchange experiences.
14th Member Conference: Architecture and Urbanism in Southeast Europe After the Crisis (02.12.2010)
As a result of the high level of interest last year, the 14th Mini-Conference is also dedicated to the region of southeast Europe. The crisis has also left its mark on the Balkan states, although the regional dynamics nevertheless appear largely unbroken. The specific challenges involved and possible approaches to finding solutions following the crisis are discussed together with experts from different countries.
Participants: Kai Vöckler and Erhard Busek; Stefan Ghenciulesco on the situation in Romania; Vesna Vucinic on the situation in Serbia and Croatia; Ephgenia Hodkevitch on the situation in Bulgaria.
Moderated by Dietmar Steiner, Az W
13th Member Conference: The Financial Viability of High Quality. How Economically Can One Build? (17.05.2010)
In times of economic crisis the financial viability of high quality architecture is a topic that is frequently discussed. What does low-cost mean? Can savings be made in the area of construction? Should the list of features be challenged — in the field of social housing, for example? Can economic parameters and planning factors achieve cost efficiency in the realisation? Can financial pressures lead to new architectural solutions and types of building? The specific challenges and planning strategies as well as possible approaches to finding viable solutions are analysed and discussed in this, the 13th Architecture Lounge Member Conference.
Participants: Anna Popelka / PPAG Architekten, Jakob Dunkl / querkraft Architekten; Theodor Klais / Strabag AG; Winfried Kallinger / Kallco Bauträger; Anders Holte / Eternit Werke Ludwig Hatschek AG.
Moderated by Dietmar Steiner, Az W
12th Member Conference: Housing for the Elderly (05.10.2009)
Growing old is probably the greatest demographic challenge confronting Western society. The group in the generation 50+ is extremely heterogeneous, with the scale ranging from active pensioners, young at heart, to the ever-growing group of senior citizens in need of care. The high life expectancy of people now and an array of long-term illnesses have to be met in due time by forward-looking urban planning, with concepts like supervised housing or intergenerational encounters. At the 12th Mini Conference for the Architecture Lounge the specific challenges and planning strategies involved as well as possible approaches to finding solutions were analysed and discussed in a round table discussion.
Participants: Arquitectos, Heidi Pretterhofer and Dieter Spath; Renate Narten, Büro für sozialräumliche Forschung und Beratung; Winfried Kallinger/Kallco; studio uek architektur; Gerhard Schuster/Buwog; Michaela Mischek-Lainer/Michaela Mischek Bauträger.
Moderated by Dietmar Steiner, Az­ W
11th Member Conference: Developing the Existing Substance (18.05.2009)
An old factory becomes a new housing estate, a former trade fair complex becomes an art district. Wherever we go we find buildings that provide space for new uses. A professional approach to the original substance is just as key as an innovative concept. Developing the existing substance differs from building afresh in terms of both the technology and the planning strategies involved. What are the demands that have to be met? At the 11th Mini Conference by the Architecture Lounge we analysed and discussed with experts on the specific challenges and planning strategies involved, as well as possible approaches to finding solutions.
Guest speakers: Caroline Jäger-Klein, Vienna University of Technology, Institut für Kunstgeschichte, Bauforschung und Denkmalpflege; Hans Gangoly, Gangoly & Kristiner Architekten; Christian Jabornegg, András Pálffy, Jabornegg & Pálffy Architekten; Christoph Stadlhuber, CEO of the Bundesimmobiliengesellschaft, BIG.
Moderated by Dietmar Steiner, Az W
10th Member Conference: Centrope — Middle European Region (17.11.2008)
In economic terms the Middle European Region has benefited significantly from the expansion of the EU, and the two capital cities of Bratislava and Vienna form the power centre of an economically and culturally expanding region of Europe. At the Architecture Lounge's 10th Mini Conference the discussion with experts centres on visions for the future urban development of these two metropolises, an agglomeration of 'Twin Cities' with only fifty kilometres between them.
Speakers: Eugen Antalovsky, business manager of Europaforum Wien; Tatiana Mikusova, head of Dom Centropy; Gerhard Schimak, Vice Rector of Vienna University of Technology, Department of Spatial Development, Infrastructure, Environmental Planning.
Moderated by Dietmar Steiner, Az W
9th Member Conference: Istanbul Urban Development (19.05.2008)
Megacity, boomtown, the hip city on the Bosphorus — as the result of high internal migration, since the 1970s Istanbul has grown into a metropolis (figures vary between 12 and 17 million inhabitants). Despite a series of master plans to control the urban development the secret capital of Turkey is growing along very spontaneous, provisional and informal lines. The adaptation follows the pattern of European towns, with a typical tendency towards increasing social polarisation and spatial segregation. For the Architecture Lounge's 9th Mini Conference the specific challenges being faced and planning strategies as well as possible solutions are being analysed and discussed.
Speakers: Almula Köksal, Yildiz Technical University, Istanbul; Candan Cinar, Yildiz Technical University, Istanbul; Shams Asadi, MA 18, department for urban development and city planning, Vienna.
Moderated by Dietmar Steiner, Az W
8th Member Conference: Building Visions. Building Values. Building Europe. (04.12.2007)
Anton Lerchbaumer founded his Carinthian-based family firm of skilled craftsmen in 1835. In 1974 Hans Peter Haselsteiner took over the running of his father-in-law's building company, which he expanded by successively buying up others, such as the German firm Strabag, to become one of the largest in Europe. With 60,000 employees and construction work totalling 11 billion euros, Strabag has long been one of the major players in Europe. At the 8th mini-conference to be held by the Architektur Lounge, Hans Peter Haselsteiner provides an outline of the milestones in the company's development from a family-run firm in Carinthia to the globally active building concern that it is today. The subsequent discussion provides an opportunity for an open exchange of experiences.
7th Member Conference: Viennese Housing Development (03.05.2007)
The system for social housing development in Vienna is apparently the best in the world. Property developer competitions, the Grundstücksbeirat and the Wohnfonds Wien ensure standards are not compromised. Is the statement true, or are there proposals for improvements in the system, and where are its weaknesses? At the 7th Member's Conference a round table discussion was held to address the issues involved with the new head of housing development policy for the City of Vienna, the Wohnfonds Wien as well as experts in the field, members of the Architecture Lounge. This new format for discussions provided an excellent opportunity for comparing experiences.
Participants: Elke Delugan-Meissl, Grundstücksbeirat; Wolfgang Förster, Wohnbauforschung; Stephan Jainöcker, Mischek; Winfried Kallinger, KALLCO; Cornelia Schindler, s&s architekten; Gerhard Schuster, BUWOG; Michaela Trojan, Wohnfonds Wien: Opening statement: Michael Ludwig, Stadtrat für Wohnen, Wohnbau und Stadterneuerung.
Moderated by Dietmar Steiner, Az W
6th Member Conference: Urban Development in Vienna and Hamburg: a Comparison (05.12.2006)
There has always been a lively exchange between Hamburg and Vienna in a context of urban development. With approximately 1.6 – 1.8 million inhabitants, both cities are roughly the same size and based on a similar planning model orientated around axes of urban development, they have also both been among the cities to experience growth as a result of the opening of the East. With the International Bauausstellung (IBA) in 2013 Hamburg is planning to incorporate new districts, making the leap to the river Elba almost tangible. In its urban development plan Vienna opts for urban density in inner city zones, but also in newly developed districts. At the 6th Architecture Lounge member-conference the Vienna executive councillor for town planning Rudolf Schicker as well as Uli Hellweg, business manager of the IBA, are presenting the two city's visions of urban development in the future. The speakers will be participating in a discussion with the public in conclusion.
Speakers: Rudolf Schicker, Executive Councillor for Urban Development and Traffic; Uli Hellweg, Business Manager of the IBA.
Moderated by Dietmar Steiner, Az W
5th Member Conference: Innovation, Why and Going Where? (27.04.2006)
"Austria is Catching-Up With Innovation" was the headline of an Austrian daily newspaper on 13 January 2006. Within five years the country had made the leap from tenth to fifth place on the European innovation listings. Innovation literally has its etymological roots in the verb innovare, from in- 'into' + novare 'make new' (from novus 'new' ), and the term currently has almost exclusively positive connotations.
In architecture new developments in materials and systems form the basis of innovative concepts. What makes something innovative though? In its 5th mini-conference the Architekturzentrum Wien is attempting to study the term from different points of view: from the product-developer's, the business strategist's and the architect's perspective.
Speakers: Michael Ornetzeder, Zentrum für soziale Innovation; Jabornegg & Pálffy Architekten: Christian Jabornegg, András Pálffy; Klaus Vamberszky, Zumtobel Staff GmbH; Alexandra Vogl, ZIT – Zentrum für Innovation und Technologie.
Moderated by Dietmar Steiner, Az W
4th Member Conference: Major Urban Development Zones in Europe: Hamburg – Madrid – Manchester (06.09.2005)
Buzzwords like 'deindustrialisation', 'suburbanisation', 'shrinkage' or 'the dying towns' dominate the current discussion on urban development. In the fourth mini-conference an analysis was made of the process of transformation in today's European town on the basis of three cities, which were taken as examples: Manchester, Madrid and Hamburg. What are the specific challenges and planning strategies being pursued to achieve urban enhancement of different neighbourhoods? What do they have in common and what are the differences between them? What approaches were or are being found for these solutions?
Speakers: Phil Griffin, architecture correspondent; José M. Ezquiaga, professor at the Universidad Politécnica de Madrid; Andreas Pfadt, town planner.
Moderated by Dietmar Steiner, Az W
3rd Member Conference: The Old Town (10.05.2005)
According to Statistik Austria, by 2030 32.1% of the Austrian population will be over 60. The target group of 60+ is becoming increasingly significant to the economy. What will happen to those who will hardly be in a position to satisfy their basic needs due to their financial situation? What are the consequences of this demographic development in urban space? How is it changing the structure of towns and cities? And who are the winners and the losers in an ageing society?
Speakers: Eva Doringer, landscape planner; Sabine Gruber, urban ethnologist; Renate Kinzl, architect; Manfred Schönauer, Raiffeisen-Seniorengenossenschaft Region Melk; Rudolf Bretschneider, Fessel-GfK, market research institute; Elisabeth Stadler, UNIQA.
Moderated by Dietmar Steiner, Az W
2nd Member Conference: Visions for Urban Development in a Context of the EU Expansion (23.11.2004)
The expansion of the EU in May 2004 is probably the single most significant project for the future in Europe. For Austria in particular, with its geo-political situation in the expanded Union, this has led to a series of interesting new opportunities. The second mini-conference addressed visions for urban development in the new member countries.
Speakers: Gerald Antonitsch, Immorent AG; Margarete Czerny, WIFO Wien; Henrieta Moravciková, ARCH, Bratislava; Ewa Przestaszewska-Porebska, ARCHITEKTURA, Warschau.
Moderated by Dietmar Steiner, Az W
1st Member Conference: Corporate Architecture (01.07.2004)
In order to be noticed and clearly identifiable in the often shrill concert of competitors, the appropriate signals must be sent out. These signals also convey information that needs to be understood, and the subtext must be right. Architecture plays a key but, regrettably, usually neglected role in this system.
Speakers: Dietmar Steiner, Architekturzentrum Wien; Peter Deisenberger, Büro 16; Fritz Hrusa, Vitra.
Moderated by Alexandra Viehhauser, Az W