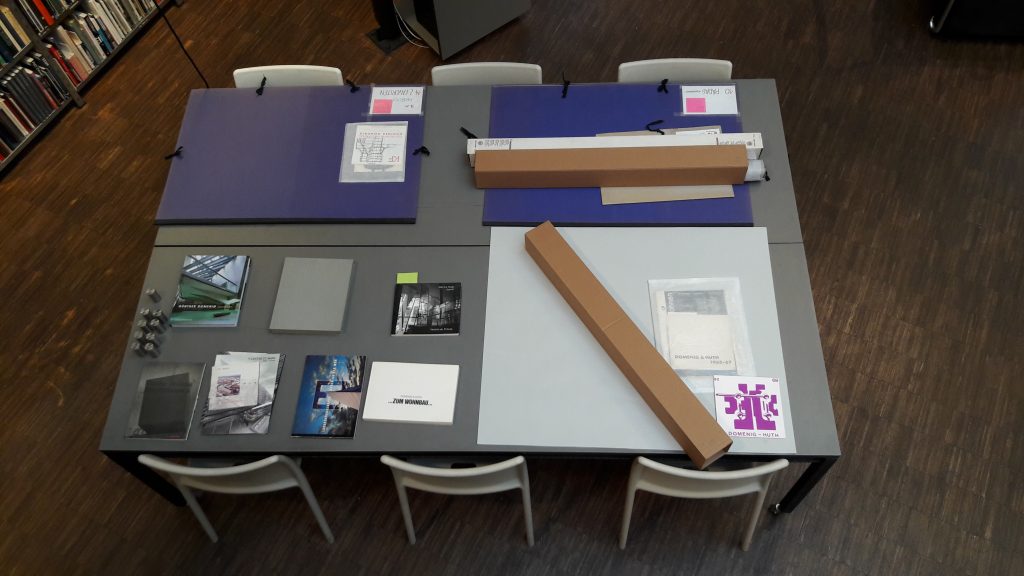 2013–2014 Teaching
Seminar "Object based research in the Az W Collection. The estate of Eugen Wörle"
In cooperation with the Lehrstuhl für Denkmalpflege und Bauen im Bestand, TU Vienna
Lecturers: Nott Caviezel, Birgit Knauer, Monika Platzer
This seminar was intended to offer students an insight into the practice of architectural research and archive work while at the same time conveying the basis of scholarly work (structuring a written work both methodically and in terms of its content). Dealing with archival material from the area of Austrian architecture of the 20th century was also one of the focal points.
2013 Research
The scholarly processing of the NS Archive of Klaus Steiner was successfully completed through the research project "Bauen im Nationalsozialismus am Beispiel Wien"(Building in National Socialism, using Vienna as an example).
Lecturers: Ingrid Holzschuh
The extensive archive of Klaus Steiner was integrated in the database of the Az W Collection. This means that the entire archive material on the history of architecture in Vienna under National Socialism is now accessible to the public. Funded by the Zukunftsfonds of the Republic of Austria.
2012–2013 Teaching
Seminar at the Institute for Art History and European Ethnology, Vienna University: "Archival based research on the history of 20th century architecture"
Lecturers: Ingrid Holzschuh, Monika Platzer
Using the example of various architecture projects from the Az W Collection the students were trained in dealing with primary sources in the archive. The existing source material was researched, examined and analysed with regard to the architectural scope of the project.
2010 Teaching
Cataloguing and Processing the Estate of Johann Staber
In cooperation with the TU Vienna/Institute for Art History, Building Research and Monument Conservation. In the framework of a seminar the architectural bequest of Johann Staber (1928–2005), who built the UNO City Vienna, was inventoried and processed by students.
Lecturers: Caroline Jäger-Klein, Sabine Plakolm
Supervision Az W: Katrin Stingl
2009–2010 Teaching
Cataloguing and Processing the Estate of Kaym & Hetmanek
In cooperation with the TU Vienna/Institute for Art History, Building Research and Monument Conservation
Lecturers: Caroline Jäger-Klein, Sabine Plakolm
Supervision Az W: Monika Platzer, Katrin Stingl
Diploma Theses, Master Degree Theses, Doctoral Theses, Studies
Merken