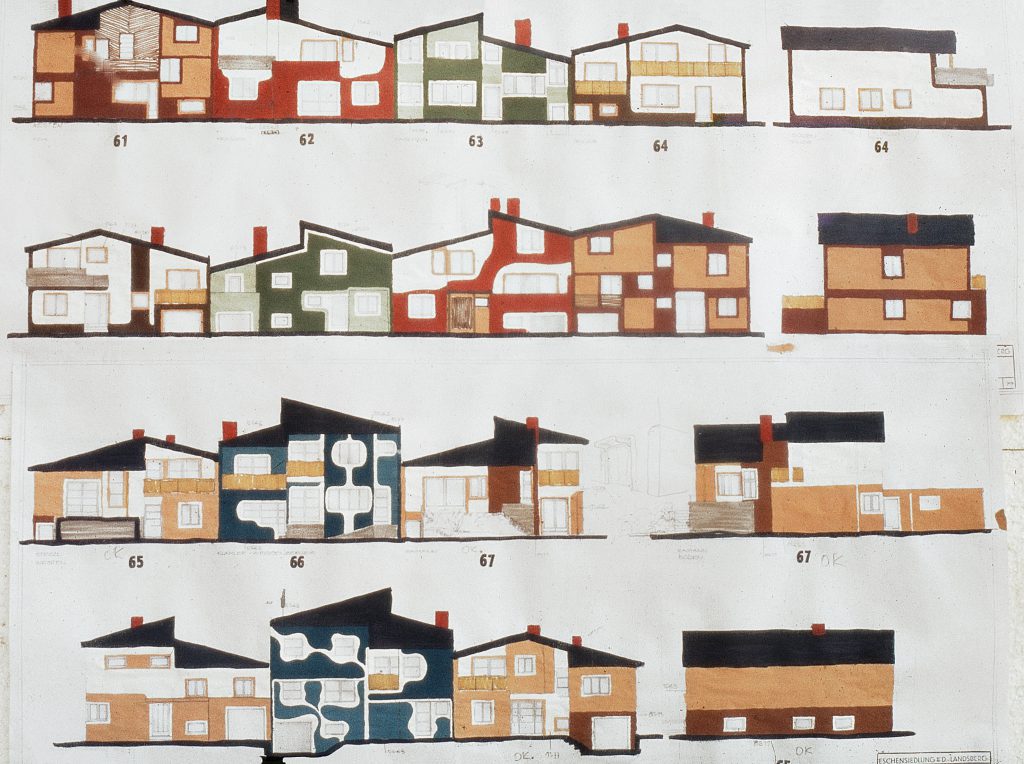 Graz based architect Eilfried Huth is not only a pioneer of participatory housing development but also in the optimised use of building land with high quality dense housing.
"For the sensible use of municipal grounds we must make building land available prudently for the future, and together we must ensure that individuals are not trading land as merchandise". Elfriede Huth's statement made in 1976 is even more valid today than it was then. The Eschensiedlung (1972-1976) was based on the idea of making dense single-family houses accessible to a low-income population with the help of generous housing development subsidies and the building land made available by the municipality at low cost.
The construction process and various floor plans were run through together with the interested parties using simulation models. The shell of the building was constructed by professionals, and a great deal of personal investment went into the interiors. The 110 units of between 104 and 150 sqm vary greatly and were completed in 6 stages. The architect held himself back completely — it was more important to him that the residents identified with their homes than that the location became a hotspot for architectural tourism.
Eilfried Huth was born on the island of Java, Indonesia, in 1930. He studied at Graz University of Technology from 1950–1956, and ran an architecture office in collaboration with Günther Domenig from 1963–1975. Together, the two architects won the 1969 Grand Prix d'Urbanisme et d'Architecture in Cannes for their Neue Wohnform Ragnitz residential complex. When the collaboration broke up, Eilfried Huth concentrated on participatory housing — putting this into practise for the first time with the Eschensiedlung housing estate.
On the occasion of Eilfried Huth's 90th birthday, the Az W is screening the film 'Mein Traumhaus sind Luftschlösser', by Julia Gaisbacher and Ulrich A. Reiterer, online on 01.12, at 19:00. This film portrait of another participatory housing development by Huth, the Gerlitzgründe in Graz-Puntigam, analyses the influence of the self-designed environment on its residents. The film is also available online on our media channel throughout December.