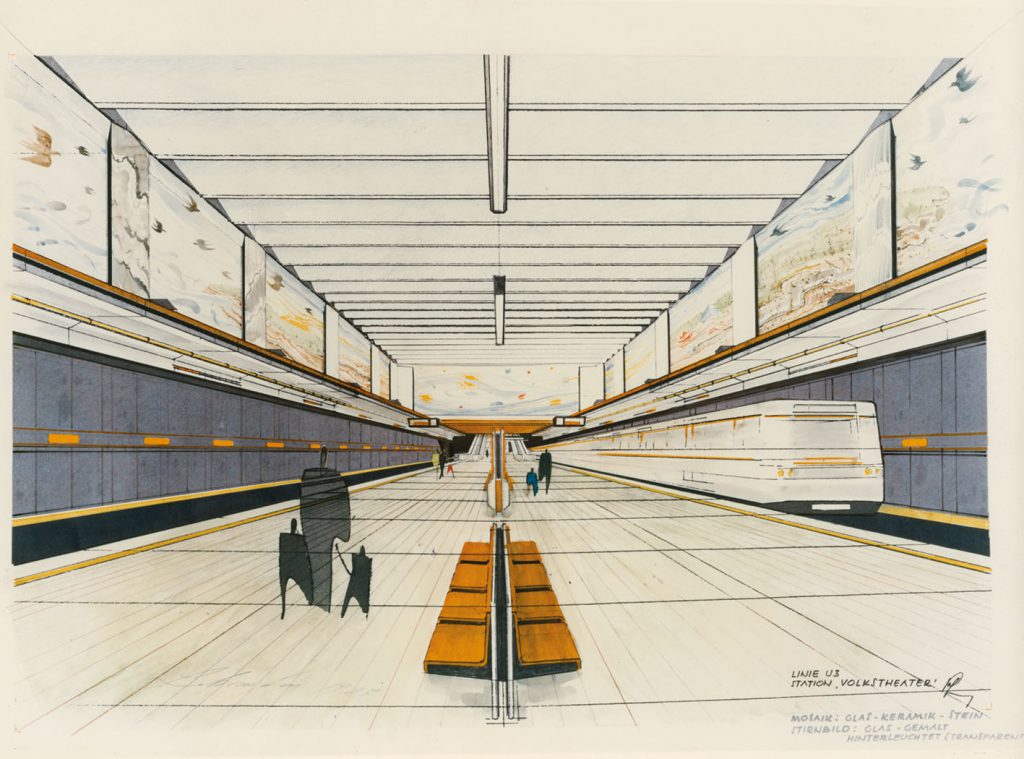 This drawing looks like it stems from the 1950s with its central perspective envisaging us right on the platform. You can almost feel a blast of wind from the approaching train.
The design in shades of grey and orange stems from the 1980s, however, as the plans for the Volkstheater U3 station date from 1980-1991. The architect Kurt Schlauss is responsible for the design. Even the mosaic frieze by Anton Lehmden is based on an initiative by Schlauss, who frequently involved artists in his projects. At the time, the architect had long ceased to be unknown — at least in connection with the design of various U-Bahn stations. At the end of the 1960s he had already designed the first underground station in Vienna — at Karlsplatz. After that, he also contributed frequently to the redesign of the U2 and various U6 stations, as well as to the abovementioned Volkstheater U3 station. With these striking stations, Schlauss' name may be remembered by the Viennese but it is hardly ever mentioned in a context of the history of Austrian architecture.
Kurt Schlauss was born in Vienna in 1924. He received his initial training from 1938-1942 at the Höhere Staatsgewerbeschule in Vienna. This was followed by two semesters of architecture at the Academy of FIne Arts, under Alexander Popp, studies which Schlauss continued at the Technical College in Vienna in 1943. In 1947 he graduated with distinction and finished his doctorate in 1953. By 1948 he had already been working as a freelance architect — parallel to which he pursued his academic career at the Technical College (1956-1967) and at the Hochschule für Bodenkultur agricultural college (1964-1973). In 1974 he was awarded the title of full Professor. He died in 2005, in Vienna.