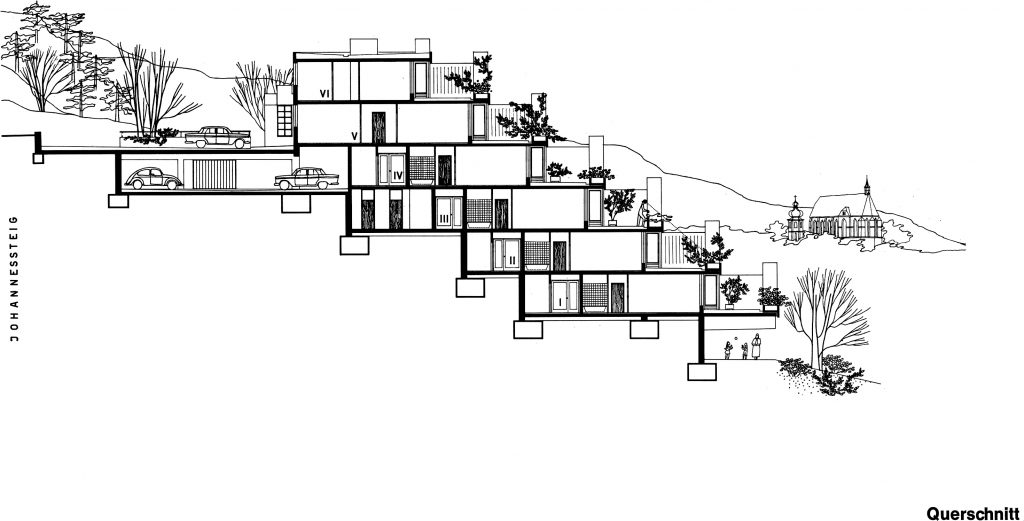 The stepped housing development in Mödling known as the "Goldene Stiege" (Golden Stairs) still seems amazingly modern today, 45 years after it was built. With this innovative housing complex, the first stepped housing estate in Austria on a slope, architect Eugen Wörle, who was already 60 years old at the time, produced a pioneering work.
In 1969 the Austrian housing cooperative Bausparerheim received the Building Client Prize from the ZV (Zentralvereinigung der Architekt*innen Österreichs) for the housing development known as the "Goldene Stiege". Here Wörle made use of a type earlier employed by Adolf Loos and Josef Frank, the stepped apartment building, and combined the individuality of a single family house with the economic advantages of multi-storey housing. Wörle demonstrates his particular skill in the way he places the volume, which is stepped six times, in the east-facing slope. The large number of communal facilities – open air swimming pool, indoor swimming pool, sauna and gymnastics room – was unusual in social housing and indicates the project's ambitious goals in terms of quality.
Insider Tip
Eugen Wörle's œuvre, which includes more than 250 designs, is not well known to the general public. Wörle studied at the Academy of Fine Arts under Clemens Holzmeister and from 1934 to 1957 worked together with the former Hoffmann student, Max Fellerer. They designed numerous shops and commercial buildings, the hotel on the Tulbingerkogel, the Haas House (post-war building, demolished in 1985) and the large public bathing complex "Am Gänsehäufel" on the Alte Donau in Vienna, which remains his best-known building.