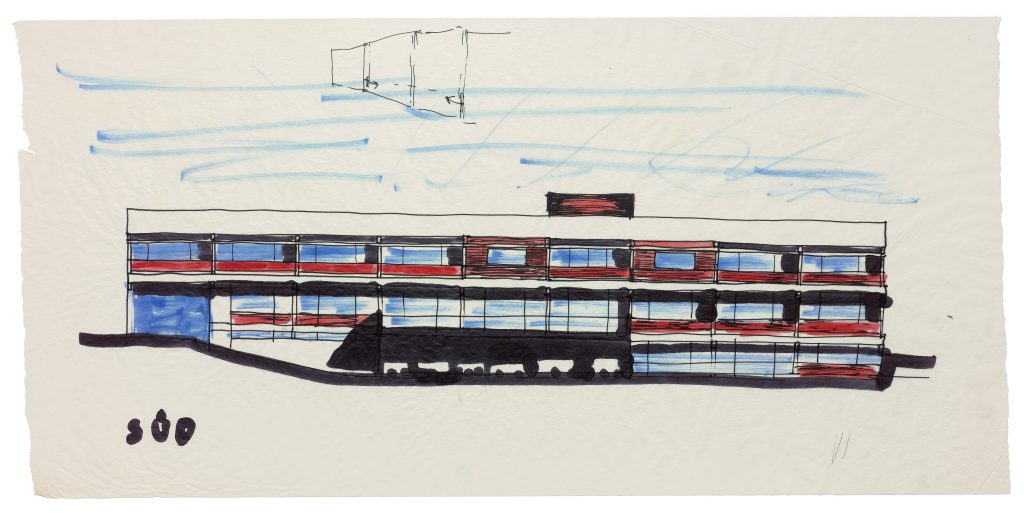 In the middle of an otherwise unspectacular plan tube with the typical grey-brown plans on tracing paper there was suddenly a big surprise: a series of coloured preparatory sketches and delicate pencil drawings, bringing the design process to life.
On 29 January 1970 Johann Pleyer was sent a letter from the Oblates Provincial Procuration outlining changes they wanted the architect to make in the planned building for a new mission at 169 Auhofstrasse — for instance, Point 8: no flat roof. In this respect the Oblati did not have their way, as Pleyer designed an elongated, two-storey building with a flat roof (built 1970–1972). Two solid concrete pillars encase the stairwell and the lift (also stipulated in the abovementioned letter) and pierce the building vertically. Above the entrance the otherwise clean ribbon glazing was given a delicate pattern that is not marked in on the submitted plans. The Percent for Art programme was a key factor for the architect in this project. The building was recently sold to a non-profit housing association, the last Oblat having moved out.
Johann Pleyer (1937–2001) studied at the Academy of Fine Arts Vienna, where he attended Roland Rainer's masterclass. He began as a freelance architect in 1969, participating in numerous competitions and successfully completing over 200 projects: housing, school, church and social buildings, as well as industrial and commercial buildings. In Vienna, alongside several single-family houses and the Oblate mission, among other projects, the Sozialversicherungsanstalt at 84-86 Wiedner Hauptstrasse, 1040 Vienna, was also built according to his plans (1969). We are delighted about this new addition to the focus on postwar architecture in our Collection.